Lou Reed Riff and Rants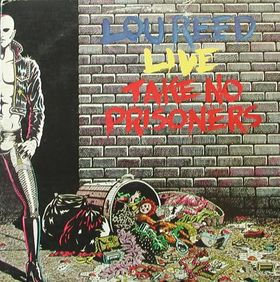 By Rob Minor
Staff Writer
There is no question that something profound had taken hold of Lou Reed while recording the album Take No Prisoners.
Take No Prisoners was a first time live album recorded by Mr. Reed over a three-day period at the Bottom Line in New York City. The album encompasses Lou's thoughts on politics, Barbara Streisand, Patti Smith, himself, and a number of other things about which he rants.
While providing you with a feeling of spontaneity and a look into what was going on inside of Mr. Reed's head, songs such as "Walk On The Wild Side" carry on for sixteen minutes. In addition to the lengthy rants are songs such as "Coney Island Baby" and "Pale Blue Eyes," which expose you to the true talent that has taken this band to where they are today.
Take No Prisoners is a fine example of Mr. Reed's contributions to the punk scene.  Although the album is difficult to grasp at first, after a good listen the energy and talent that is put forth in this album will make you wonder why there are not more albums like Take No Prisoners. When Mr. Reed claims, "I do Lou Reed better than anybody, so I thought I would get in on it," he isn't joking. This album is Lou Reed at his finest.