A Christmas Carol: A Review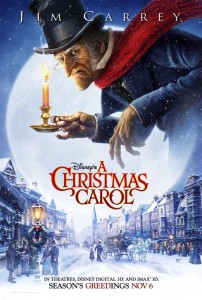 By Cassie Scannella
Staff Writer
I just went to see the new Disney movie, A Christmas Carol in 3D.  This is a movie based off the well-known Charles Dickens novel, A Christmas Carol.  Just about everyone has seen or read at least one version or another of this holiday masterpiece, but this movie was truly a special one.  My expectations were high, especially knowing Jim Carrey was the main role in this movie, and because it was going to be in 3D.  I also went into this movie hoping that it wouldn't be just like any other version; I wanted it to have a special twist to it to make it unique.  Needless to say, I was very impressed and my high expectations were met and satisfied with the outcome.
Disney's A Christmas Carol was directed by Robert Zemeckis, and featured actors like Jim Carrey, Steve Valentine, Daryl Sabara, and many more.  Knowing that Jim Carrey was the main actor in this movie, playing the voices of several characters including the main character, Ebenezer Scrooge, alone made my expectations high.  Jim Carrey movies like The Grinch always have their own unique twist because he is such a talented, distinctive actor with his own personality.  Carrey played the voices of Scrooge (all ages), Ghost of Christmas Past, Present, and Yet to Come.  His one of a kind personality showed through with each of the characters, making Scrooge and the Ghosts different than any other rendition of A Christmas Carol I have seen before.  I thought the 3D element itself was really fascinating.  It is interesting how the producers can make a movie like that in the first place, and to have this great holiday classic in 3D form for the first time ever gave it its own exciting spin on just the usual, typical version of the movie.
Mostly everyone knows the storyline to A Christmas Carol.  It's about an old, miserable man named Ebenezer Scrooge who is greedy and only cares about money.  He tries to hold back the spirit of Christmas from everyone in his life, including his underpaid employee, Bob Cratchit, and his nephew Fred, who invited his uncle to his home for his holiday dinner but Scrooge refuses to go.  Later that evening Scrooge goes back to his dark, big, lonely home and is visited by the ghost of his former business partner, Jacob Marley, who warns Scrooge that three ghosts will be visiting him: The Ghost of Christmas Past, Present, and Future.  Scrooge thinks he is going crazy until the Ghosts pay him visits.  The purpose of the Ghosts coming and showing Scrooge how life was like for him as a child, in the present, and in the future is to scare him in a way and to make him aware of his selfish actions, and how they can affect his future if he keeps acting the way he is.  On the following day, which is Christmas Day, Scrooge becomes a different person.  He suddenly turns into a cheerful, happy man and wants to change and become a better person because of the eye-opener he just had. He starts wishes everyone he sees on the streets of London a Merry Christmas, offers his employee a raise, and he even attends his nephew's holiday dinner.  The Disney movie stayed within the story line and remained true to the original book written by Dickens, but also had it's own unique twist with the Ghosts, and with the scenery and the way the Ghosts took Scrooge through time.
I particularly thought that the movie was more adult based rather than for little kids.  Most of the time these movies are meant for children and even though some kids may enjoy this version, others may have been a little scared.  There was a lot of suspense with the Ghosts, especially when Jacob Marley's ghost came to visit Scrooge.  It actually made me jump!  The Ghost of Christmas Yet to Come was very dark because it symbolizes death and could be a little intimidating for a child.  Overall, I was very pleased with the movie and I would love to see it again!  The ending was moving and it definitely put me in the holiday spirit!