Dr. Dan Robbins appointed new theatre director
Bob Hannon
Staff Writer
Dr. Dan Robbins has been appointed the new director of the Theatre department at Marywood University. Robbins comes to Marywood from Eastern Arizona College where he was also director of Theatre. He joined Marywood after a competitive national search.
Robbins has many years of training and experience in theatre as both an actor and director. He earned a Bachelor of Fine Arts in theatre from Texas Christian University, a Master of Arts in theatre from Texas Woman's University, and a Ph.D. in theatre from the University of Texas at Austin.
The nationwide search for the new director was guided last year by Sr. Joan McCusker, chair of the department of Music, Theatre, and Dance, after former theater director, Dr. Paulette Merchel, retired.
According to McCusker, Robbins' way of interacting with students and faculty during his campus interview, coupled with his extensive background in theatre, made him the best candidate for the position. McCusker said the search committee was looking for someone who could move the program forward.
"[Robbins] was exactly what the program needed," McCusker said. "We needed someone who had a background in higher education, and also someone who was a professional actor."
Though he's only been at Marywood for a couple of months, Robbins has already increased the number of shows the students will perform each year. He recently directed "All in the Timing" by David Ives. He is also going to direct "The Complete Wrks of Wllm Shkspr (Abridged)" by the Reduced Shakespeare Company in November. Robbins said he realizes the changes may be difficult for the student actors.
Robbins said he felt it was important to increase the number of shows produced at Marywood.
"The additional shows are necessary to give the theatere students sufficient training, as well as more experiences on the stage," said Robbins. Robbins added that his approach to college theatre is to treat the students like real Broadway performers and not simply as students. He said that he hopes to see Marywood's Theatre department become "the academic theatre of Northeastern Pennsylvania" under his direction.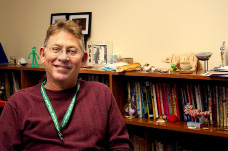 Members of the Marywood community can see Robbins and the theater students in action in their next production of "The Complete Wrks of Wllm Shkspr (Abridged)," which will run from November 3-6. Show will be performed in the Sette LaVerghetta Center for Performing Arts at 7:30 p.m.<