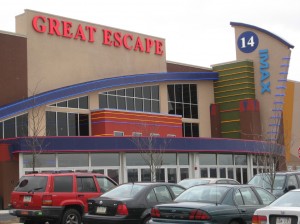 Bob Hannon
Staff Writer
Walking up to the large building, one would see "Great Escapes" emblazoned in large, bolded letters. It is impossible to miss as it illuminates the entirety of the night sky. "Great Escapes," so named as to escape one's own life and magically get whisked away to another world in the form of cinema. A number of transparent glass doors line the wall to the front of the theatre leading to an assortment of smiling staff in the ticket kiosks.
I walked in and purchased my (rather expensive) ticket for $14. Fourteen dollars seems like a very expensive price and, on a tight college student's budget, may seem impossible. I am not sure if it was worth it but the experience was enjoyable, overall.
Story continues below advertisement
I went to see Megamind in 3D starring Will Ferrell, Tina Fey, and Brad Pitt. When I first purchased my ticket, I thought to myself that "this can NOT be worth it. There is no possible way." Irritated, I opened the doors to the second area where the smell of freshly made buttered popcorn filled the air around me. This was a pleasant smell, suggestive of any cinema.
The snack bar area was a large open space covered in queues for movies and accented by foliage. There was even a restaurant in the movie theatre. It was not even just a small, simple snack food restaurant. It was legitimately a restaurant. This theatre is, by far, the fanciest theatre to which I have ever been.
I have always disliked 3D glasses. This time, they were dirty and smudged, obviously the result of a small child. (After all, this was a cartoon I was going to see) I could not even see out of the glasses. I asked the staff member next to the glasses if he could hand me a new pair. At this, he apologized and searched the rack for the cleanest pair. He was very helpful and apologized again.
I walked into the theatre only to be amazed by the size of the screen. It stretched from wall to wall and curved inward. I could not even estimate the number of seats which fit into this theatre. I walked up to the very top and sat in the fourth row from the top towards the middle of the screen and people were already starting to file in an hour before show time. The seats were probably some of the most roomy and comfortable theatre seats. These seats have real cushions.
The movie lasted about an hour and a half and, as I was leaving, staff members told me to have a good night and a good night I did have.