Cooking with Katie: Key Lime Pie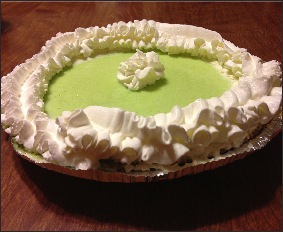 Spring break has come and gone, and while you can't be in Florida, you can bring some of it home with you in the form of Key Lime pie. This classic dessert is actually incredibly easy to make. As it is one of my personal favorites, I've spent a lot of time trying out different recipes over the years and have always returned to this simple but effective version.
Here's What You'll Need:
1/2 cup lime juice
One 14 ounce can of sweetened condensed milk
3 eggs, separated
9 inch graham cracker pie crust
Whipped cream (if desired)
Here's What You Do:
Preheat the oven to 250 degrees.
Beat egg whites until peaks form, and set aside.
Combine the egg yolks, lime juice and condensed milk.
Fold the egg whites into this mixture.
(I added green food coloring here for effect. Pros will tell you the Key Lime pie shouldn't be green. But no one here is claiming to be an expert.)
Pour mixture into the pie crust.
Bake for 10 minutes.
Chill in the refrigerator for a little bit before serving. Add whipped cream around the edge or to individual pieces.