Music education majors host event for high school students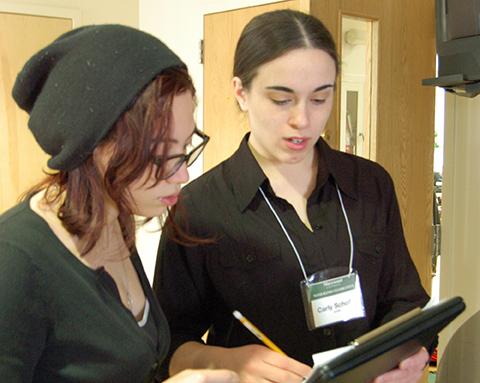 On Saturday, Jan. 31, the Marywood chapter of the National Association for Music Education hosted the Senior Wind Band Celebration.
Students between 10th and 12th-grade from both local and out of town schools gathered and practiced music to perform at concerts held in the Sette LaVerghetta Center for Performing Arts.
Schools send their top musicians to participate in the event. The selected students got the opportunity to work with top clinicians brought in from out of state in preparation for the final concert. This year, Dr. F. David Romines served as administrator and Dr. Rick Good (Auburn University) and Mark Scatterday (Eastman Wind Ensemble) conducted the students.
Normally, the participants spend the first part of the weekend rehearsing the music for the final presentation on Sunday. This year, however, the weekend was cut short because of snowy weather conditions.
Carly Scholla, senior music education major, was confident that the changed date wouldn't hinder the performance.
"No matter how much time we spend on the music […] the concert goes phenomenal," said Scholla.
Also during the workshop, certain students were given the chance to audition for Marywood's music department as well. The event serves as a way to recruit students as well as give them performance and learning opportunities.
Nadia Lipperini, freshman music education major, also helped run the event.
"I really enjoy the idea,[…] I even remember performing in it myself," said Lipperini.
For more information on the Marywood Music, Theatre, and Dance Department, visit www.marywood.edu/mtd/music.
Contact the writer: [email protected]