"Passion Play" gives new meaning to Holy Week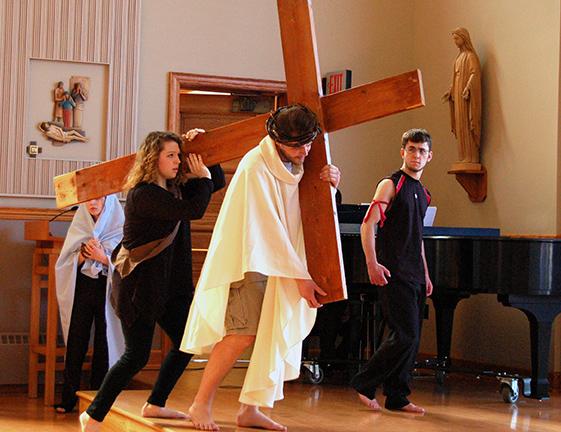 What do you get when you take a mobster Chief Priest, a fist-bumping Jesus, and Judas singing a show-stopping Broadway hit song? These elements together created a modern interpretation of the events leading to Jesus' resurrection.
On Palm Sunday, March 29, Marywood Campus Ministry presented the annual "Passion Play" in the Marian Chapel at 2 p.m. The performance has been a Marywood tradition for more than 20 years. It featured songs from "Godspell" and "Jesus Christ Superstar" and gave the audience a fun yet somber re-creation of the Passion. The performers acted out scenes such as the Last Supper, the betrayal of Judas, and Jesus' death and resurrection on the cross.
Josh Moore, a sophomore guitar performance major, played the role of Jesus Christ. He explained his favorite part of portraying such an important figure in the play.
"I enjoy being able to do something that's so humbling … being this role of our Lord and Savior," said Moore.
The "Passion Play" began and ended with the song "Day By Day" from Godspell. The play created intense emotion in most scenes, especially when the soldier pounded his hammer on the wood to imitate nailing Jesus to the cross. However, through the catchy tunes and scenes of comic relief, the actors were able to balance out the somber aspects with joy.
The "Passion Play" is unique in that it provides a visualization of events that no one could have witnessed. It allows the audience to understand the events and their importance in the Catholic faith.
"It's something that we talk about," said Danielle Hagin, co-director and a junior communication sciences and disorders major. "It's very different to actually see it."
Sr. John Michele Southwick, I.H.M., the adviser for the play, said that it was originally written by a friend of a former student. As the years have gone by, the actors have added music and other unique elements to the show.
"I think the music adds a lot," said Southwick. "For people who are not acting majors, I think they do a superb job."
The students had been rehearsing for the "Passion Play" since the beginning of the spring semester and they spent about an hour every week in preparation for Palm Sunday. The full chapel full of cheers at the end of the play indicated that their efforts paid off.
"It's a wonderful way to start Holy Week," said Southwick. "It really puts the meaning of the week in front of people's eyes."
Contact the writer:
[email protected]