BrigEats: Ale Mary's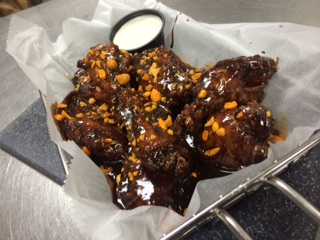 One thing Scranton has to offer is a plethora of locally-owned restaurants.
Courthouse Square is lined with places to eat, and they all offer something unique and delicious. I ventured a few blocks down from the square and settled into Ale Mary's on Franklin Ave.
The interior is clean and modern but has that familiar pub feeling to it, which is how their food is: modern but classic.
To say the food at Ale Mary's is delightful would be an understatement. Ale Mary's has created fantastic new imagination of classic American comfort foods.
To start, I ordered the tomato bisque. It is hearty and rich with a subtle kick, the heat was a wonderful compliment to the acidity of the tomato. They top their tomato soup with grilled cheese croutons, and yes you did read that correctly. It elevates the classic grilled cheese and tomato soup into an edgy and adult appetizer.
For my entree, I was torn between the mac n' cheese or the turkey BLT sliders, but after discussing the dilemma with our waitress, she quickly steered me toward the best mac n' cheese I have ever had the pleasure of eating. My crock of creamy, cheesy goodness arrived, and I knew I was in for a treat.
The blend of cheeses was delightful and never overbearing. The pasta was cooked to al dente perfection. To compliment the gooey interior of this dish was a crispy pork rind crust. The salt in the crust as well as the crunch it provided took this already life-changing dish to new heights. I ate until I was full and then finished the whole thing, leaving the bowl nearly clean.
Ale Mary's food has a familiarity to it. They take classic dishes that people grew up eating and gave them a modern and gourmet twist. If you are feeling up to a night out in Scranton, be sure to stop by Ale Mary's.
Contact the writer: [email protected]