Our Town: A touchingly poignant and poetic production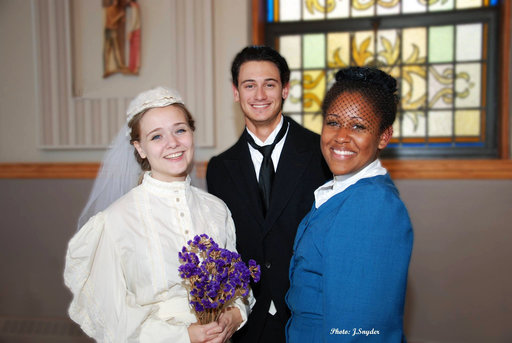 On Oct. 2 and 3 at 7:30 p.m. Marywood University's production of Our Town will take the stage at the Sette Laverghetta Center for the Performing Arts.
This Pulitzer Prize–winning drama, first produced and published in 1938, has become an American classic and is Thornton Wilder's most celebrated and frequently performed play.
Minimalism is a key aspect of this production as there are very limited set pieces and virtually no props used; the actors instead mime actions accompanied by subtle sound effects to add tangibility to their movements.
In short, the plot focuses on life in the small village of Grover's Corners. The story line is strung together by the character of the Stage Manager who 'breaks the fourth wall' of the theatre by directly addressing the audience.
The role of this narrator figure will be played by David Zarko, a professor in the MTD department at Marywood. Zarko is thrilled to be working on this production having played the same role six years ago with The Dietrich Theatre in cooperation with the former Electric Theatre Company.
Because of Zarko's many years of experience with Our Town, he provides some stimulating insights into the work.
"It cuts right to the heart of the human experience," he said. "It's a really tough-as-nails kind of look at things; it doesn't sentimentalize or romanticize small town life. It really shows it for what it is, and shows life as a beautiful sweet thing as well."
He highlights the timeless feel the piece embodies and encourages anyone and everyone to experience this production not only because "they'll recognize themselves and family and friends," but also, "it takes you everywhere."
Sophomore Musical Theatre major Ken Doyle (George) is thrilled to be starring in this show for the first time. He especially enjoyed his experience working with professional director of the production, Maura Malloy:
"We not only rehearse, but she gives us little tasks to do to develop everything in the show, and it's hard, but worth it," said Doyle.
Dana Jackson, who plays alongside Doyle as Emily, is a sophomore studying Theatre Education. When asked what strikes her most about Wilder's work, she pointed to a line in the script that provokes a necessarily unsettling question: "Do any human beings realize life while they live it?"
In the same light, Zarko remarks that the play reveals "something quite lovely about enjoying life in the moment fully, and how important that is and how elusive that is."
Contact the writer: [email protected]