Humans of Marywood highlights members of university's community
Humans of Marywood is a community-based Facebook page, inspired by the popular Humans of New York page. It features students, alumni, faculty, and staff of Marywood University. The page was founded by Katlyn Beaton, former graduate assistant of the web development office, during the 2014-2015 academic year.
During the fall of 2015, graduate assistant of the web development office and health communication major Rachel Mizanty took over.
Mizanty explained that she thinks Humans of Marywood is special because it highlights all of the different members of the Marywood community.
"Everyone has a story and I give [featured people] complete creative control to write whatever they like. Some of the features are face-to-face interviews, but most are the featured people writing about themselves," said Mizanty.
Recently, the Humans of Marywood page reached over 1,000 followers.
"It's exciting to know that people like the page so much," said Mizanty. "It's a cool feeling to go online and see a feature and think, 'Oh hey, she's in my English class!', or read a post about someone you know but then learn more about them. Our school isn't a huge school so odds are you'll know someone who has been featured already."
Mizanty credits the success of Humans of Marywood to hard work and the featured members of the university. Mizanty has been working on the page seven days a week for the past few months nonstop.
At first, Mizanty reached out to her friends who went to Marywood and then started marketing on Facebook to reach current students, faculty, and staff.
"The marketing has been going great. I'm booked until August, and my job ends May 5! But I don't mind… people keep giving me nominations and I want to honor them by continuing to post. When someone tells me that they enjoy the page it makes all the hard work worth it, and I love being able to do it," said Mizanty.
For the past month, Mizanty has been able to feature two people a day, five times a week.
"We truly have wonderful people who are affiliated with our school and because of them, the page has been booming! It's been quite overwhelming seeing all the support I receive," said Mizanty.
Junior social work major Lisa Wilson was one of the wonderful people featured on Humans of Marywood.
"I love the page because it is a celebration of the people that teach, learn, and work in the Marywood community," said Wilson. "I like that there's no set format, and people can say whatever they want about themselves because it's their time to shine!"
To be featured or to nominate someone to be featured, you can message Humans of Marywood on Facebook or email Humans of Marywood at [email protected]
For more Humans of Marywood, follow them on social media!
Facebook: www.facebook.com/humansofmarywood
Blog: www.humansofmarywood.wordpress.com
Instagram: @humansofmarywood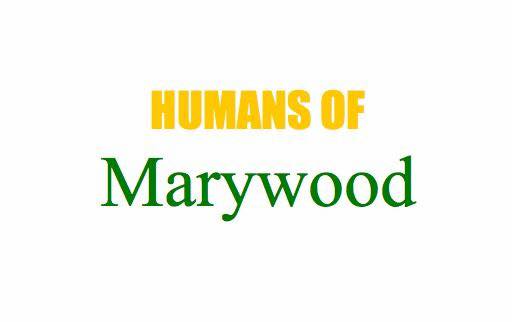 Contact the writer: [email protected]