All Time Low drops new single "Dirty Laundry," after two years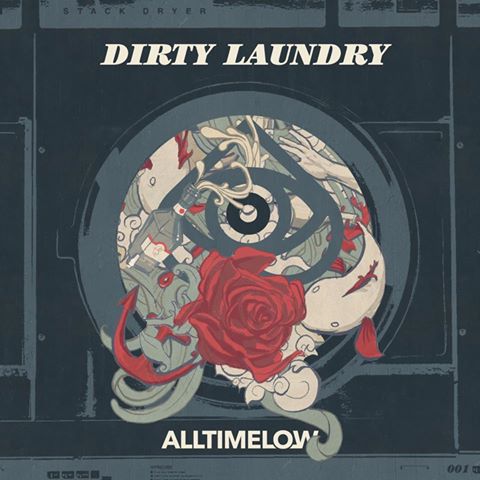 On Feb. 17, fans of the alternative band All Time Low finally found out what the band had been dropping hints about on their various social media platforms, such as Facebook.
"Dirty Laundry," the new single from All Time Low (ATL), dropped early Friday morning along with a music video, allowing fans to enjoy a new sound from the band. It has been almost two years since ATL have released new music, leaving off with their hit album "Future Hearts" back in 2015.
The band had been teasing fans throughout the week that something new was coming, updating their cover photos and releasing a video of Lead Singer Alex Gaskarth in a laundromat, staring at the "dirty laundry" in a washer.
The new single brought listeners into a world of reverberated vocals and electronic vibes, which is something ATL has never fully taken control of, except for a handful of songs off of their 2009 album "Nothing Personal." The band, however, seemed to stay with something they are familiar with on the new single, which is the full commitment to bringing lyrics to life for their listeners.
ATL have always been known for their pop punk and alternative sounds, but this was something entirely new.
The nostalgic single speaks about a girl whose depression has made her life a mess, where Gaskarth relates it to her laundry being dispersed throughout her room. He also explains through his lyrics that even though his lover is a wreck at times, he will always be in love with her, even admitting he has "dirty laundry" at times as well.
The song seems to pick up at the end where the band sings the bridge, allowing fans to hear the ATL they are familiar with, including Gaskarth's heart-filled vocals and amazing lead guitar from Jack Barakat.
I was very happy and overjoyed to listen to new music from ATL and I cannot wait to hear what else they have in store for 2017. With this new single, the band will hopefully decide to release a new album before the end of the year. I can already tell they have new ideas coming through their music and I am certainly craving more from the band.
The new single "Dirty Laundry" is available for download on iTunes for fans new and old. I highly recommend it to any fans of alternative music and for those who listen to Mayday Parade, You Me at Six, PVRIS and Tonight Alive.
Contact the writer: [email protected]