Shout out to Chance the Rapper
Since the first time I heard Chance the Rapper's faith-filled verse on Kanye West's "Ultralight Beam," there hasn't been a time I didn't get chills listening to his music. This sentiment rings especially true for Chance's Grammy Award winning album, "Coloring Book." From start to finish, the mixtape never fails to captivate. Every track is strong, moving and full of emotion.
"Coloring Book" was released in May of last year, and hasn't made money off of a single copy. Chance's mission to make all of his music free would've been laughed at before the age of music streaming. After artists and labels fought music piracy for years, here's Chance the Rapper, winning three Grammy Awards for a free mixtape.
Chance's style can best be described as gospel hip-hop. He's not afraid to tell you he loves God in his music. And as if it wasn't enough for his independently produced mixtape to be the first streaming-only album to win a Grammy, he used his performance at this year's awards to remind us all again how much he loves God.
And Chance isn't stopping at just changing the music industry.
To show his support for comedian Jordan Peele's new movie "Get Out," Chance bought every ticket for the movie at a Chicago movie theater so fans could see it for free. "Get Out" is a horror-comedy that tackles race issues, and holds a 99 percent rating on Rotten Tomatoes.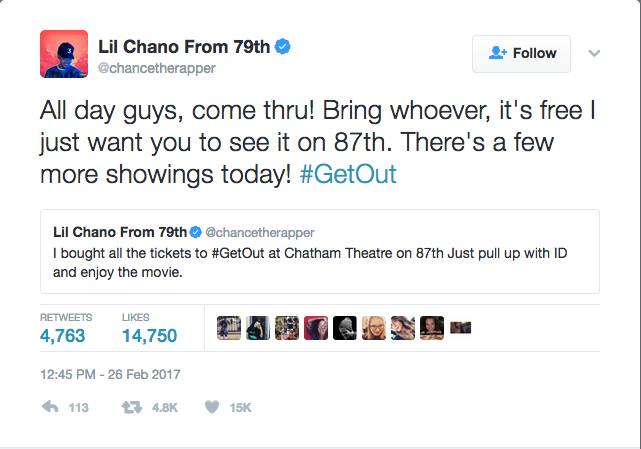 Chance once rapped, "I'm in love with my city…I sleep in my hat," and he really does love Chicago. One way he aims to help the city is with public education. Chance had a planned meeting with Bruce Rauner, governor of Illinois, to talk about funding for Chicago's public schools, but due to poor weather in the state, the pair rescheduled the meeting for later in the week. Long-time fans of Chance shouldn't be surprised that he would want to discuss such a topic, as the Chicago-born rapper has shown interest in helping his beloved city in the past.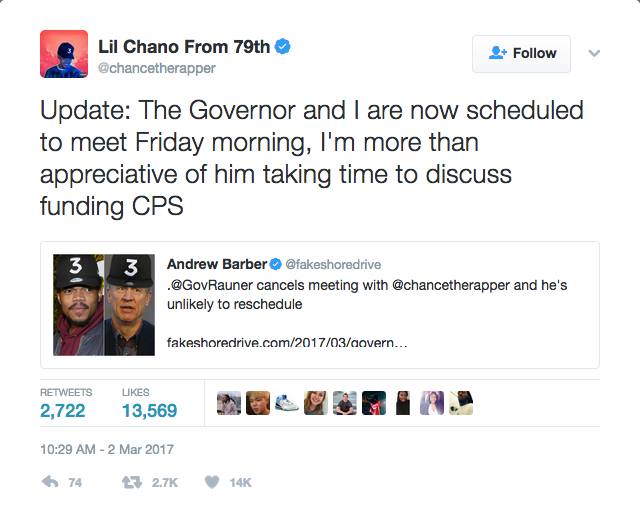 In 2015, Chance worked behind the scenes on an open mic series that aimed to encourage the arts for Chicago high school students. The open mic shows are still going strong two years later.
Last November, Chance led a crowd of people from a free concert he put on through downtown Chicago to encourage citizens to vote early. Some reports said hundreds were in attendance, but Chance and other reports claimed attendance in the thousands.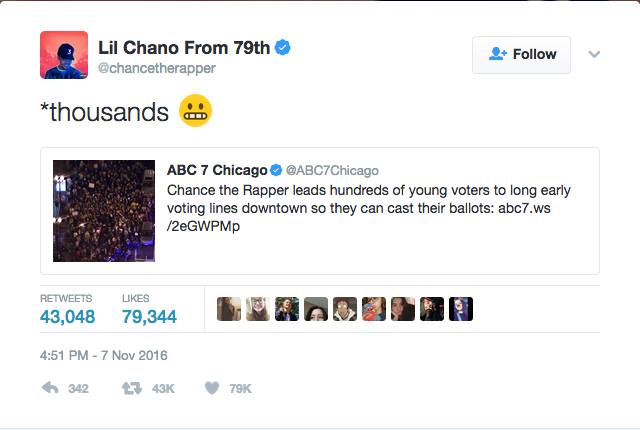 Chance's music is moving, upbeat and overtly religious hip-hop. He deserved those Grammys. For his music and his dedication to giving back to his community and his fans. Chance the Rapper is the type of celebrity everyone can look up to.
So, Chance the Rapper, thank you. Thank you for proving that dreams do come true. Thanks for never giving in to record labels and staying independent, and for everything you do for your fans. We appreciate you.
Contact the writer: [email protected]
Twitter: @WeidnerTWW