Binge Breaks: HBO's "Perry Mason" is a stellar, dark drama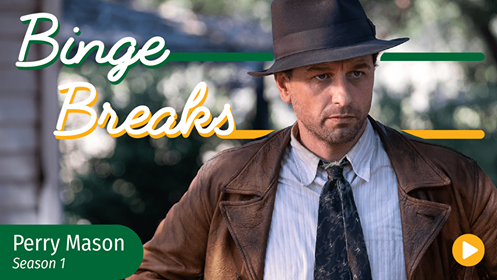 Whenever most of us hear that a remake of a classic television show or movie is premiering, it's met with a mixture of instant dread and the anxious hope that it won't be a total disaster. "Perry Mason" was originally a legal drama throughout the late 1950s into the late 1960s. HBO took on this classic and revamped it in a way completely different from the original but also wildly entertaining.
The casting directors have done an excellent job orchestrating a show chock full of talent and enough name recognition to give the series some pull to apprehensive viewers.
Matthew Rhys plays the titular character and gives a layered, chilling performance. The new levels of grit and tragedy that he brings to the role helps the viewer identify with him and the struggles he goes through as the series progresses. Mason deals with many trials and triumphs, including the loss of his childhood home, a complete career change and a rocky relationship with his estranged wife and young son.
Legendary actor John Lithgow appears in a recurring role as Mason's mentor E.B. Jonathan, who is a driving force in Mason's character arc. Emmy award-winner Tatiana Maslany shines in her role as the troubled Sr. Alice, the figurehead of a shady cult-like church. Other notable actors in the series include Jefferson Mays, Lili Taylor and Eric Lange.
Each character plays off of the others so well that no one particularly outshines the others, and the viewer feels as if they know and identify with these fictional people. I'm optimistic about the future of the show and the direction it will go in. Now that the show has established most of its characters' roles in the story and the future plot, there is room to grow and to explore more in-depth both the backstories of existing characters and to introduce new ones as we go.
The writing can occasionally be a bit murky, with various storylines feeling rushed or forgotten about altogether. This element may be because of changes in casting and showrunners, or the fact that it was initially supposed to be a limited series. Given that the series has been greenlit to have an additional season on HBO, I'm hopeful some other storylines can be ironed out or explored in further detail.
The content and imagery displayed throughout the show is incredibly dark and dismal, so I would advise viewers to proceed with caution. Alongside these stark components, the show also ties in a plethora of societal issues, such as racism, homophobia and sexism that are just as
prevalent now as they were in 1930s Los Angeles, when the show takes place. The series truly does leave the audience guessing until the very end.
All in all, I genuinely enjoyed the show, which surprised me because remakes of classics don't tend to go well. I was hooked from the first episode and eagerly anticipated the newest installment each week. During quarantine, it was regularly something to look forward to, and it was exciting to have been part of the show from the very beginning. I'm teeming with excitement for when season 2 comes out, as I have such high expectations for what directions the show will go in.
Contact the writer: [email protected]