Commuter Lounge: New and Improved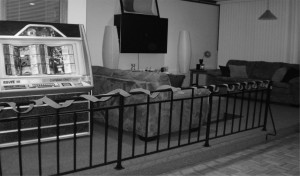 By Susanna Kappanadze
Staff Writer
Commuters now have a cool and comfortable place to go when looking to study, socialize, and just relax between classes. Located on the lower level of Nazareth Student Center, the Commuter Lounge, formerly known as the Woods Cafe, is re­vamped and ready to better service Marywood's commuters.
The goal of this space is to provide commuters with a welcoming area where they can spend time doing homework, studying, or just kicking back and having fun. In addition, the lounge hosts weekly events aimed at creating a sense of community, as well as advertising for the room.
Recent events have included a Super Bowl party on January 30, complete with wings, video games, and paper football, and the ever-popular Commuter Lounge karaoke, where students sing their hearts out and walk away lugging cases of Vitamin Water as a prize.
Project Linus also recently took place in the lounge on February 6. This rewarding experience was comprised of making blankets for donation while drinking hot chocolate.
To fill you in, the Commuter Lounge was created in Spring '07, by Julia Kolcharno, Director of Student Activities and Leadership Development, as part of the commuter outreach program. Since then additions and changes took place in the Commuter Lounge to create a more comfortable, fun, and useable room.
Changes include the addition of a jukebox, computers, WiFi Internet, and new tables, chairs, and pillows. And by the way, since the theft of the television last spring, a new flat screen TV was installed and security is much tighter. A second TV in the room will soon go up exclusively for video games, too!
Plans for freshman commuter mailboxes will help make the room more functional too, and mailboxes for all commuters will be available for use in the lounge by the fall. On top of this, to enhance the visual appeal of the room even more, the art department's mural class will be doing a mural project for the space.
Students Sam Gliniecki, Jake Holley, Mary Moskwa, Amanda Rosemergy, and Alicia Washko were given the title of Commuter Assistant, appointing them student leaders who staff the room, keeping in mind the goal of allowing commuters a feeling of community and investment in Marywood University.
The Commuter Assistants, under the advisement of the Dean of Students, Amy Paciej, plan the lounge's weekly activi­ties and events, such as the afore­mentioned Super Bowl Party and karaoke.
All events take place weekly in the Commuter Lounge from 12:30-3 p.m. If you are not a commuter, do not worry. All students are welcome to attend.
The lounge is open Mon­days and Wednesdays from 12-5 p.m., and Tuesdays and Thurs­days from 9 a.m.-4 p.m.
Anyone interested in becoming a Commuter Assistant will be able to find applications for the 2008-09 Commuter Assistant positions in the Dean's office and in the Commuter Lounge in March.