Kolcharno Accepts New Position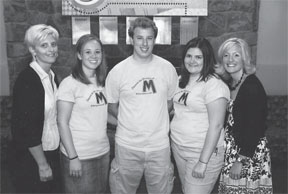 By Ian Reynolds
Staff Writer
For those of you who may not know, Julia Kolcharno is the current Director of Student Activities and Leadership Development at Marywood University. However, in a few short weeks, Julia will become the Director of the Student Affairs Department at the Commonwealth Medical College in Scranton. Julia's dedication to all the students, fellow staff and faculty is overshadowed by her constant considerate and cheerful attitude toward everyone. Whether you are aware of it or not, I guarantee she has made a positive impact on your campus life. As Director, some of her main responsibilities were supervising the Undergraduate Student Government Association and the Student Activities Crew Interns, as well as advisor of the Undergraduate Orientation Program. Within all of her positions, Julia's guidance, expertise and assistance have been invaluable. For the past six and a half years Julia has served as a student advocate at Marywood, encouraging student input to be valued by and included in administrative committees campus-wide. She has worked tirelessly to give students a voice in all university forums and aided countless students in an immeasurable number of ways. The quotes below are a small sample of students who can speak of the profound impact Julia has had on their college experience:
"I have too many memories and too many things to be thankful to Julia for to list them here. I know she will continue to positively impact countless students and shape tomorrow's leaders." -Emily Reineke, former SGA Secretary and Class of 2007 Alumni.
"Julia's influence has touched the lives of many students including mine. I sincerely hope that students at the medical school recognize how lucky they are to have the opportunity to work with such an inspiring person." -Tracey Fagan, current SGA President.
"Through example, Julia has taught me some of the characteristics and values I now try to teach the students I have in class. She was always willing to help anyone with anything and never ask for a favor in return." -Bryan Scopelliti, former SAC Intern and Class of 2006 Alumni.
"Julia truly helped me find my leadership qualities within and how to best share them with the entire Marywood Community." -Kristina St. Jean, current SGA Vice President.
"Julia is skilled at bringing the best qualities out of the students she works with and encourages students to grow as thinkers, problem solvers and leaders. She seemed to know our strengths before we did and with her help, we were all able to flourish." -Meaghan Shanahan, former SGA President and Class of 2007 Alumni.
"Julia has been extremely instrumental in making my time here at Marywood the best it could be. She saw potential in me as a lleader, and encouraged me to take on new exciting opportunities." -Laura Holder, current SAC Intern.
"Many students have worked with and adored Julia not only for the advisor and friend that she is, but the person she enables us to find within ourselves." -Meredith Force, former SGA President and Class of 2004 Alumni.
"Julia taught me more about myself and how to be a good leader in my four years, then I had ever thought I could learn. Her enthusiasm, vision and commitment to the students at Marywood is something that can't be replaced but will always be admired by everyone who knew her." -Lisa Zager, former SGA President and Class of 2006 Alumni.
"I know that from day one Julia has always had my best interest at heart; as she does with all students, and words cannot convey my gratitude." -Ian Reynolds, current SAC Intern.
Inspiring students has always been Julia's specialty, a task taken on in addition to her responsibilities as Director of Student Activities and Leadership Development. In her tenure at Marywood, Julia has set new precedents and achieved many impressive goals. Among those achievements are: the establishment of the Commuter Assistants program, the founding and continuous success of the semi-annual Flapjack Fest event, the increase in budget funds for student funded clubs and organizations campus-wide, the university-wide collaboration for the annual Homecoming celebration, the foundation of Marywood University's own Leadership Series and so many more.
As difficult as it is to say goodbye to such a caring advisor, mentor, student advocate and friend, there is no doubt in the mind of anyone who knows Julia, that she is the best person to develop and shape the student life division of an emerging school.
Julia, as a community, we wish you and your family all the best. Even though you will only be several blocks away, you certainly will be missed. From the bottom of all our hearts, "Thank you for all you did, for all you do, thank you for being you, thank you for everything!"