Leading On: Sr. Anne's First Year in Office at Marywood University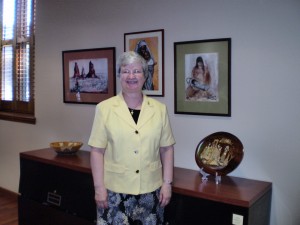 By Lauren Tyrrell
Editor-in-Chief
Just over one year ago, Marywood University welcomed its 11th president, Sister Anne Munley, IHM, Ph.D. to the campus community.
Numerous Marywood publications – both in print and online – have recognized and celebrated her many accomplishments that preceded her present position, including her role as Executive Director of the African Sisters Collaborative, her extensive world travels, and her long history with both Marywood University and the Sisters, Servants of the Immaculate Heart of Mary congregation.
Recently, The Wood Word interviewed Sr. Anne for information that goes beyond her history and into the future of Marywood University. Her plans reveal that, while her setting has changed, the values which bolster her leadership, as well as the impact of that leadership, remain constant no matter what the context.
Leadership, in fact, is one Marywood core value in which Sr. Anne takes special pride. "I've always been struck by the amount of leadership I see exercised all around," she said. "I meet regularly with student leaders on campus, and the commitment and amount of time and energy they devote for the common good of the university is very impressive."
It was this brand of enthusiasm that led Sr. Anne to institute the new tagline, "Lead On." The catchphrase, she says, possesses "the same spark of energy" of the many student leaders. "It's compelling, it's clear, and I think it recognizes the essential quality of leadership and how important it is in our heritage. But it also takes us into the future where I think we can speak to everyone.
"Every part of this community has a role to exercise in terms of leadership, and it's not just for ourselves," Sr. Anne continued. "It's for the broader reality, the region, the society, the world. I think it's acknowledging that leadership exists, and saying to stand up tall, to take the bushel basket of the candle and let your light shine…It's 'Lead On' from those gifts that have been given to you and share them for the common good."
Sr. Anne exemplifies this belief well in her own personal commitment to issues of social justice and human rights. Two key events on campus this semester will testify to this commitment. First, the fall academic convocation on October 24 with a special theatre production entitled Speak Truth to Power. "It's really a play that articulates through the voices of human rights activists around the world how committed human beings can make a differences," she explained, "how one person or many people working together can make a difference in the various areas of human rights."
The second key event will occur from November 23 through November 25 when Marywood University hosts the fifth annual Inter-Parliamentary Conference on Human Rights and Religious Freedom. Sr. Anne noted that leaders and diplomats from around the world will gather at Marywood during this three-day event in order to explore opportunities for the advancement of human rights via government entities and legislature.
With these two significant events taking place at Marywood, Sr. Anne decided to make human rights awareness a campus focus for the fall term. "I'm very excited about it," she said. "There's a very energetic group of faculty and staff working together on this. We're looking at how to infuse this theme across the entire university, through the kinds of activities that will go on in classes, the kinds of things students will be reading, the kinds of discussions that will be going on."
This focus, she hopes, will inspire the students of Marywood. "Every person can make a difference, and sometimes a difference is just becoming aware," Sr. Anne said. "Once we become aware, we can see how we can integrate into our own lives those behaviors that really speak to dignity and respect and all of those basic human rights…I really believe that the entire world is all part of the household of God and we've got to spark in ourselves, and others, awareness of the fact, that we are truly meant to be brothers and sisters."
In addition to these significant undertakings, Sr. Anne is also focused on improving the community she presently serves, the faculty, staff, administration, and students of Marywood University. Some projects that share this objective are the development of a new learning commons, an updated campus master plan, and an increased concern for ecological issues.
"I'm very conscious that nothing stands still," said Sr. Anne. "We have to continuously look around the next corner and see how Marywood's mission can continue to unfold in a way that we are actually helping students who pass through here in their professional development to go out and be ready to be major factors in contributing to the broader society."
In order to contribute best to the world, she advises students to "keep tapping into those dreams, keep looking at possibilities…Don't fail to recognize that the gift is within and that this is an environment where all those gifts can be liberated."