Interparliamentary Conference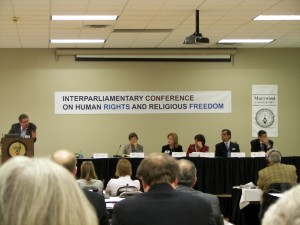 By Kevin Zwick and Joe Kania
Outlook Editor and Staff Writer
On November 23-25, Marywood's campus hosted the Interparliamentary Conference on Human Rights and Religious Freedom. This conference gave delegates from numerous nations the opportunity to sit down together and discuss possible legislature that would address issues concerning human rights, sovereignty, security, environmental protection, poverty, and extremism.
The Conference was organized and moderated by the Institute on Religion and Public Policy, an international, inter-religious non-profit organization based in Washington D.C. The founder and president, Joseph Grieboski, is a native of North East Pennsylvania, who attended Scranton Preparatory School and Georgetown University.
Grieboski was nominated for the Nobel Peace Prize in 2007 and founded the Institute on Religion and Public Policy. While he is now based out of Washington D.C., he felt that having the conference in Scranton was an opportunity to give back to the area in which he grew up. He said that Washington D.C. is not the "real world" and that this would give the Scranton the opportunity to be shown to the delegates what the real world is.
Almost forty countries were represented at the conference, giving Marywood the unique opportunity to continue its mission of "global advocacy for justice and human rights." President Sister Anne Munley, IHM, Ph.D. feels that, "meaningful dialogue is an essential pathway to building positive relationships among the religions and cultures of the world. We are honored to host this conference on behalf of the entire Northeast Pennsylvania community."
The sessions at the conference included Our Common Nature: Religion and Legislature Protecting the Environment; Counterterrorism, Dialogue and Extremism; Keeping the Public Healthy: Obstacles and Necessities in Prioritizing Public Health; and Identity, Sovereignty and Human Rights in a Globalized World. Speakers in these sessions included Joyce S. Dubensky, Esq. of The Tanenbaum Center, Barbara Slavin of The Washington Times, and Lawrence Anthony, founder of The Earth Organization.
Each session of the Conference lasted about two hours, with about two or three sessions per day. Four or fi ve key speakers addressed the conference, discussing the chosen topic of the day. Then the speakers opened the floor to policy-makers and delegates for a question and answer session.
According to the Interparliamentary Conference on Human Rights and Religious Freedom Concluding Document, the purpose of the Conference is to "encourage parliaments to facilitate the establishment of national and parliamentary institutions to champion the cause of human rights and religious freedom, and also respect for human dignity."
Although the Institute encourages these rights, a woman from the Kenyan delegation received a wild ovation when she stated the reality of the situation:"What good is it to just talk about what can be done, instead of coming up with something tangible  that can be institutionalized?"