A Day to Celebrate Mothers at Marywood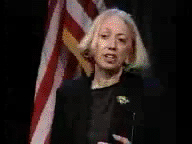 By Alison Trautmann
News Editor
On March 11, the Marywood University Women's Studies program sponsored a day to celebrate mothers and raise awareness about economic discrimination against mothers.  Pulitzer Prize nominated journalist, Ann Crittenden, spoke about economic discrimination against women and mothers in particular.  In addition to Crittenden's talk, there were many events hosted throughout the day that celebrated mothers.
The "Celebrating Mothers" program began with an open mic in the Fireplace Lounge where students read poetry, stories, and talked about the influence that mothers and mother figures had in their lives.  There were also tables set up in the Rotunda and Fireplace Lounge to collect donations for mothers and their children.  These tables also gave students the opportunity to write messages and sign petitions to support laws and legislation that would benefit mothers.  The Rotunda was decorated with pictures of mothers and facts about economic discrimination against mothers.
Dr. Erin Sadlack, who coordinated the event as head of Marywood University's Women's Studies Program, said that the issue of mother's rights is important because "we all need to be aware about how this issue impacts society."  She chose to have the event focus on mothers because society needs to value mothers on more than just the established Mother's Day.  Sadlack wants people to consider the role that mothers play in society and how discrimination against mothers is unjust.  She made a point to have a both celebrate mother figures and the act of mothering in the event.
That night, the main event was Ann Crittenden's talk "Why Mothers Deserve Equal Rights."  Crittenden is the author of The Price of Motherhood, which was written after she experienced firsthand the loss of identity that a mother suffers when she leaves the workforce to take care of her children.  She was once asked "Didn't you used to be Ann Crittenden?"  Mothers usually lose income when they stay at home with their kids and it is more difficult for them to be hired back to their jobs after they leave to take care of children.  It is also common that an employer is less likely to hire a woman if it is indicated that she has children.
Discrimination against mothers in the workplace is an issue that needs to be addressed.  Only by raising awareness will anything be done to help mothers.