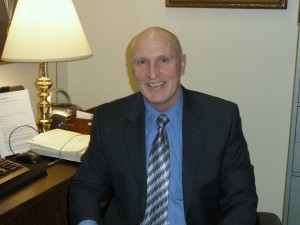 By Alison Trautmann
News Editor
Jim Sullivan was recently named the Director of Records Management and Archives for Marywood University.  Originally from New York, Sullivan came to Marywood in order to preserve its history through the maintenance of the archives.  The archives are a system of records created in order to preserve the history of Marywood.  Sullivan says that, in order to be a good archivist, one "needs to have an avid interest in Marywood and its ideals and values."
Sullivan uses a program called "Access" to tell where everything is stored.  This program makes it easy for Sullivan to locate what people need.  Sullivan says that the "key to having a successful archive is having a system that is accessible to everyone."  He is using the system to assist the IHM sisters in putting together an exhibit on women's religious communities.  Sullivan also assists people who are interested in learning about the history of Marywood.
The archives include many different items and it even includes photos and documents that date back to before the foundation of Marywood.  Photos, documents, maps, minutes of the trustees, and other interesting objects are contained in the archives.  There are student handbooks dating back to the beginning of Marywood as well as minutes from class meeting and information on the IHM sisters.  Sullivan even found a newspaper from the Civil War era as well as a newspaper that reported the assassination of President William McKinley.  Sullivan determines what is important for preservation in the archives by looking at the core values of Marywood.  Marywood is about education, service and social justice, so Sullivan looks for items or documents that support this identity.
Story continues below advertisement
Sullivan places the different items into special archival boxes that will protect the materials from decay.  There are boxes for each department and building on campus.  Sullivan recently started a new file for the new School of Architecture.  He includes blueprints and collects information on how the building is progressing.  He also collects information on the different presidents of Marywood.  Sullivan has a file for each president that includes news clippings and photos of Marywood's presidents.
Sullivan said that "as the archivist you try to make Marywood interesting to people."  He certainly has achieved his goal.  Whether or not someone is interested in Marywood; they could not help but be fascinated by the wealth of information that is contained in the archives.