Women's Studies at Marywood: A Hidden Treasure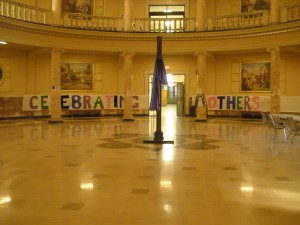 By Victoria Clarizio
Staff Writer
There is a well-kept secret at Marywood that is ready to be shared with the world. This secret is the Women's Studies minor; which is available to all students but many are ignorant to its existence. The women's studies program has always existed, but it fell by the wayside until recently. In 2006, faculty members set out to bring the program back. Dr. Erin Sadlack, advisor of the minor, and faculty from multiple disciplines set out to publicize the program. The Women's Studies minor is interdisciplinary, combining English, Religion, Philosophy and any other course that fits within gender studies. In fact, students pursuing this minor can only take two courses within their major and are required to take the remaining four classes within other disciplines. Some classes offered that fulfill the requirement of this minor include: Women and Religion, Early Modern British Women Writers, Women in the Developing World and many other courses offered each semester.
Women's studies was created as a separate discipline in the late 1970's, so it is a fairly new area of study. There are many misconceptions attached to women's studies, such as the opinion that you have to be a "raging feminist" to be interested in it. At its core, the goal of women's studies is simply to raise awareness about gender discrimination. As a whole, the program seeks to correct misconceptions about women, their role in society and identify traditions that distort perceptions of women.
Again, students wishing to pursue the minor must take classes from at least two different disciplines, to keep with the interdisciplinary aspect of the program. Dr. Sadlack thinks that one of the best things about the women's studies program is that it "combines the academic with activism." Outside of classes, the faculty involved with the Women's Studies program lead discussions on their research throughout the semester. This semester the scholarship series is entitled, "Women's Work". So far this semester Ms. Christina Elvidge has given a talk on the "Intersection of Class, Race & Gender in Contemporary British Literature", Sr. Mary Ann Zimmer gave a talk on "Blessed Virgin Mary: Images and Issues". Dr. Helen Bittel led a film and discussion session entitled, "Moms Rising". Each semester there is a main event as a climax to all the activities. On March 11, Ms. Ann Crittenden, a journalist will be discussing "Why Mothers Deserve Equal Rights." This day will include many other activities culminating in Crittenden's presentation.
Students involved in the Women's Studies program have found it fulfilling and eye-opening. Freshman Alison Trautmann says, "I chose to become a women's studies minor because I found it fascinating to look at different subjects based on a women's perspective. It's extremely interesting. I have enjoyed all the classes I've had in the minor." Dr. Sadlack emphasizes the fact that this minor relates to all majors. Consider taking advantage of all the Marywood has to offer in this enriching program. Anyone interested in minoring in Women's Studies should contact Dr. Erin Sadlack.