Changes in Marywood Dining Services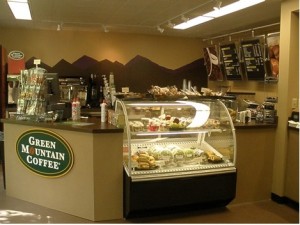 By Alison Trautmann
Assistant Editor-in-Chief
Students may notice changes in the Dining Services this year at Marywood University.  From the addition of the coffee shop "Study Grounds" in the library, to meal equivalency at more locations, and the elimination of breakfast being served in the main dining hall: the dining options at Marywood have been changed with the aim of increasing convenience for students.
Tom Notchick, Marywood's Director of Dining Services, said that response to the changes has been mostly positive so far.  So far, he has only received one negative e-mail and only one student showed up on the first day for breakfast in the main dining room. Notchick anticipates that the Resident Committee meeting on September 22 will help get more feedback from students. Notchick has noticed that meal equivalency at First Stop may have been the most popular change with the majority of students.  Senior Amanda Myrkalo commented that "Meal equivalency at First Stop is nice because you don't have to use your pacer points if you want to eat there."
Notchick said that "all of these changes are made with the intent of dining services being open when students need them to be open."  He pointed out that with the changes more places are open later.  Study Grounds is open until 10pm in the library and late night is open until midnight. Notchick also commented that the current state of the economy had nothing to do with the dining service changes.  All of these changes are made to show students that the University has their best interests at heart and wants them to be able to eat when it is convenient for them.
The Study Grounds had its grand opening on Monday September 14.  Students could enter a raffle to win a one cup coffee maker and were given free coffee mugs.   Business at the Study Grounds and other locations has been good but Notchick anticipates more people using the different dining service options as the weather gets less favorable.  The change in dining services has been well-received so far and  this will certainly not be the last time there are dining changes at Marywood.