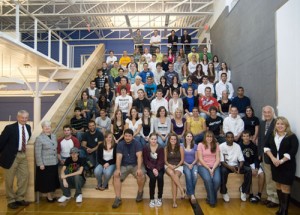 By Katie Zwick
Staff Writer
"Green" architecture focuses on using architecture in a way that protects and enhances the environment. This concept of environmental stewardship is the backbone of Marywood University's School of Architecture, as well the basis for all those living in the world today.
The new Center for Architectural Studies was built using recycled, renovated and reused structures. The stairway leading from the first floor to the upper level was built from an old dance floor in the building, while some visual remnants of the old Health and Physical Education Center still remain intact. The building uses convection-style "chilled beams," which provide cool air to the work spaces, while the large, north-facing sky light cuts down on the need for additional lighting. Another popular feature of the building is the "green roof," which is home to rows of plants that will serve as a natural form of insulation. This helps to cut down on the cost of heating and cooling the facility.
"The building is a great learning facility. It is very open and is a relaxed place to study," said John Casey, a freshman in the Master of Architecture program.
Story continues below advertisement
The School of Architecture offers degrees in Architecture and Interior Architecture/Design. The Architecture program has three different tracks, allowing students to obtain Pre-professional or professional degrees, including: Bachelor of Environmental Design and Architecture, a 4-year program; Bachelor of Architecture, a 5-year program; and Master of Architecture, a 6-year program. The students of the Interior Architecture/Design program can obtain a Bachelor of Fine Arts.
"The classes are challenging at points, but also are fun and creative," said Mr. Casey.
Students enrolled in the school's professional degree programs (B.Arch. and M.Arch.) will pursue coursework preparing them for the LEED Professional Accreditation Exam, managed by the Green Building Council Certification Institute (GBCI). After passing this exam, students will earn a professional credential distinguishing them as graduates with extensive expertise in green building principles and practices. Students receiving both the professional degree and LEED Professional Accreditation will be uniquely equipped to make substantive contributions to contemporary architectural practice.
"The LEED certification will have a major impact on the people who graduate from this program because jobs will be available to those can better their environment using the skills they learn through this program," said Mr. Casey.
Architecture is the application of both art and science; an innovative way to design and build, with a strong understanding of how materials and physics work in particular environments.
It is difficult to go a day without hearing about an eco-friendly way to do things, and architecture is no different. The demand for environmentally-conscious architects is expected to grow in the fast-approaching future, and Marywood is preparing the students of the School of Architecture to hold the knowledge and talent to design and build for a sustainable future.