Marywood and the Scranton State School for the Deaf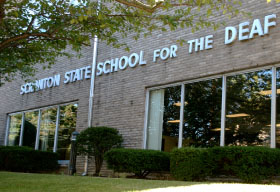 Alison Trautmann
Editor-in-Chief
Marywood has expressed interest in buying the Scranton State School for the Deaf. The property was appraised at $2 million but Marywood has offered to buy it for $500,000. The difference in price comes from the fact that the school is greatly run down. Myron Marcinek of the maintenance department has noted that the school would need many changes to make it useable such as removing lead paint and asbestos. A recent article in The Scranton Times Tribune said that it could cost Marywood up to $25 million to restore the campus to functionality. The campus is amixture of old and new buildings.
There is also a problem of air conditioning, half the campus is air-conditioned and the other half is not. Marywood would have to deal with all of these problems before moving into the school. The purchase has yet to be finalized due to the fact that it must pass a vote in the State Senate's House of Representatives. However, Marywood has not expressed any definite plans for what they will be doing with the property if and when they acquire it. Marywood will not be using the school for student dorms. Perhaps they will be used for offices, classrooms, a studio,perhaps a clinic? Who knows?
What do you think should be done with the property? E-mail us at [email protected]