Scranton Reads Mark Twain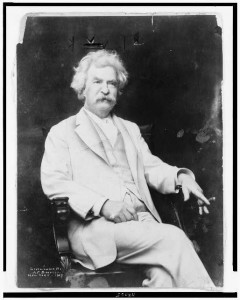 Alison Trautmann
Editor-in-Chief
The Scranton Reads program  is back for its 9th year with a focus on the works of Mark Twain. Scranton Reads is a program during which all of Scranton reads one books, or in this year's case, the works of one author, Mark Twain.
The 2010 Scranton Reads program kicked off on September 17th at Courthouse Square. The kick-off included free copies of Twain's The Adventures of Huckleberry Finn, as well as music from The Bog Twain Band and actors from the University of Scranton Player's production of The Adventures of Tom Sawyer.
Dr. Agnes Cardoni from Marywood University and Rich Larsen from the University of Scranton wrote a cooperative grant between Marywood University and the University of Scranton. The grant provided $1750 towards the presentation of The Adventures of Tom Sawyer at the University of Scranton and Marywood students were allowed to audition for roles on and off stage.
Events planned for the Scranton Reads program include a frog-jumping contest, discussions of Twain's literary works, a film series, a re-enactment of Twain's visit to Scranton, storytelling, an old fashioned game night, and a bus trip to the Mark Twain House and Museum in Hartford Connecticut. The Scranton Reads website provides a short biographical sketch of Mark Twain (the penname of Samuel Langhorne Clemens). Clemens's penname supposedly comes from a term used on the Mississippi River for determining if water was deep enough for boats to travel.
Twain had many jobs, including times as a printer's apprentice, riverboat pilot, and even a silver prospector. However, he is best known for his writing including such books as The Adventures of Tom Sawyer, The Adventures of Huckleberry Finn, A Connecticut Yankee in King Arthur's Court,The Prince and the Pauper, and A Murder, a Mystery, and a Marriage.
Halley's comet appeared at Twain's birth in 1835 and his death in 1910. April 18th of this year marked the 100th anniversary of Twain's death. Don't worry, you don't have to read all of Twain's books, simply pick one that sparks your interest. Dr. Agnes Cardoni of the Marywood English Department recommends Twain's short story, but tall tale, "The Celebrated JumpingFrog of Calaveras County."
Cardoni says that it is possible to "enjoy the story as a tall tale that somebody might try to tell but you can also enjoy the craft of Twain's diction in the telling of the tale and his understated wit." Another recommended read is "War Peace" because of its subtle argument against war. Cardoni said Twain knows how to captivate the thoughtful reader and his works are full of "those things that make you go 'Hmm.'"
It is easy to find a copy of Twain's work to read. There are copies available at the Albright Memorial Library in Scranton as well as Marywood's library. Twain's works can also be found online through various free literary,websites such as Project Gutenberg.