School of Social Work honored by Catholic Charities USA
Alison Trautmann
Editor-in-Chief
In September, Marywood University was awarded a Centennial Medal from Catholic Charities USA. The medal was awarded because of Marywood's "contributions to the reduction of poverty in the United States" according to the Catholic Charities USA.
Catholic Charities USA icelebrated the hundredth anniversary of its founding by awarding 100 medals over the course of the year. Thirteen of the medals are being presented to schools of social work in Catholic colleges across the United States.
Dr. Lloyd Lyter, the Interim Dean of the College of Health and Human Services, said that eight years ago, the thirteen Catholic colleges banded together to increase awareness about their social work programs. These 13 medals were awarded in recognition for the work that the schools of social work undertake. The medal was awarded in the Library of Congress in Washington D.C. Dr. Lyter accepted the award and said "It was really cool. That was my first time in the Library of Congress. We weren't in the main building but were in a conference room with balconies that looked over the city."
The Marywood Social Work program has graduated over 4,000 MSW and 500 BSW students since 1969 when the school was first established. The program's solid reputation comes from its forty year history and an excellent faculty. For many years it was the only masters program in Northern PA and Southern New York. Faculty in the department often work part time and are currently in the field so they have familiarity with current issues and techniques. They are also highly regarded on the national and international scene. One of the faculty members presented a paper in Oxford, England.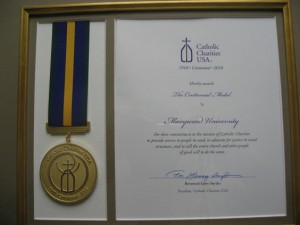 The Social Work program is not only confined to the Scranton campus. Social Work programs are also offered at DeSales University, Alvernia College and Bloomsburg University.
Social workers are actually the largest group of providers of mental health service. They also deal with child welfare, hospital based services, end of life care, school social work, military, industry, and forensics. "It's almost hard to imagine an area in which there are not social workers" said Dr. Lyter. The recognition of Marywood's Social Work program certainly adds to the already impressive reputation of the program.