The man behind the WVMW-FM curtain Mengoni helps students, radio station achieve recognition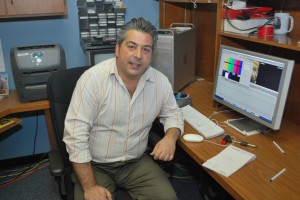 Joe Petro
Staff Writer
If you were to walk into Marywood University's Media Center on most days, you would most likely be greeted by the cheerful Ernest D. Mengoni. Mr. Mengoni is most commonly known to students and faculty as Ernie.
Ernie has been the Coordinator of Broadcast Operations for 19 years, overseeing the radio and TV station. His job entails supervising Marywood students as they work at the radio station in order to maintain the radio station's premium quality.
"The part of the job I like the most is working with the students on a daily basis," said Ernie. Although students manage the radio station and TV studio, Ernie steps in when major circumstances arise.
Ernie explained that the first purpose of the Media Center is for training and practical application. He said the second purpose is for recruitment. Ernie proudly described that 91.7 VMFM is the only alternative radio station in the local college market. He continued to describe how the target audience is based on current and potential Marywood students. Ernie said that the unique programming along with students running the radio station for 12 hours a day, separates it from other alternative stations.
Throughout his 19 years as Coordinator of Broadcast Operations, the radio station has seen positive technological advancement. Ernie says that the increase of power has broadened the listening base greatly. Ernie also stated that the capability of streaming on the internet has helped the radio station's growing popularity. In addition, Ernie attributes a great deal of the success of the station to Mark Ruddy, the prior Assistant to Coordinator of Broadcast Operations. Mr. Ruddy helped program the radio station for 8 years until his recent departure.
Locally, 91.7 VMFM has won "Best College Radio Station" 6 years in a row as publicized by The Electric City. Ernie said, "It is more exciting to me to be recognized locally because that's our target audience. Also, it's exciting to be voted for by listeners and readers who enjoy our programming."
According to Paste magazine this past month WVMW-FM is #12 out of the 40 best little radio stations in the US. The magazine states they are sure Marywood University's WVMW-FM is the only radio station the fictional character Dwight Schrute from "The Office" listens to. Ernie said, "Music director Justin Troutman, the station manager Christian Wagner, and the students at Marywood deserve the credit for such an accomplishment."
"Due to dedicated students that are trying to perfect their craft, it makes my job more enjoyable and easier to manage. The students that want to be here, opposed to having to be here, makes the programming that much better," said Ernie.