ROTC Blood Drive: Campus support saves lives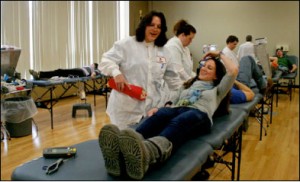 Members of the Marywood community lent an arm in support of the recent ROTC blood drive on campus.  To find a donation site near you, go to www.redcrossblood.org.
Red cross nurse, Kimberly Jones draws blood from Marywood junior, Beth Schneider.  Photo credit Morgan Strasser.