Soulful Sounds filled the air on Martin Luther King, Jr. Day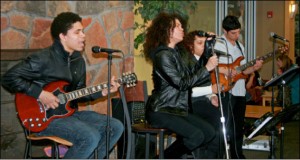 January 17, 2011 was Martin Luther King Jr. Day, and Marywood University celebrated with the inspiring music of his time.
Vocalist Tara Michel Watkins, and the three musicians, Kenneth Watkins, Leslie Butler, and Neil Nicastro filled the Fireplace Lounge in the Nazareth Student Center with soulful songs from the Civil Rights Era.
Ms. Watkins is the lead singer for Music for Models and was the vocal director and choreographer for award winning artist John Legend, as well as a background singer for recording artist Lauryn Hill.
The performance  was sponsored by Marywood University's Diversity Office and Diversity United.  From left to right performers are Kenneth Watkins, Tara Michel Watkins, Leslie Butler, Neil Nicastro. Photo credit Morgan Strasser.