More students create cramped conditions in residence halls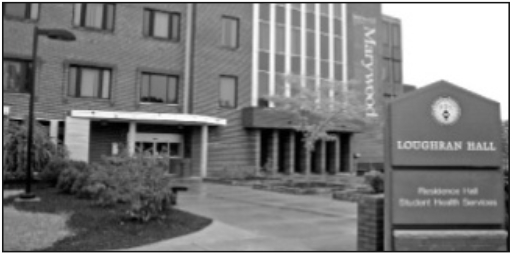 Photo Credit: Morgan Strasser
Loughran, the freshmen residence hall, is the hardest hit for overcrowding this year.
Bob Hannon
Staff Writer
Kelly Rickert
Assistant News Editor
Several resident students returned to Marywood this fall feeling a bit more claustrophobic than they expected.
With 1,080 undergraduate students currently living in on-campus housing, some residence halls are bursting at the seams. There are over 65 more students on campus this year than last year, according to the Marywood 2010-2011 Fact Book.
According to Elizabeth Sechler, director of Housing and Residence Life, the number of students living on campus has increased each year since she started working at Marywood in 2006, when only 759 students lived in residence halls.
The numbers have grown so much in these past few years that certain residence halls had to make changes to accommodate these new students. Loughran Hall, the exclusively freshmen residence hall, notably expanded five quads into quints, four triples into quads and a few singles into doubles, said Sechler.
Sechler added that the Woodlands Apartments also expanded from eight-person housing to ten-person housing.
The growth of the university is reflected in the growth of housing. "[Marywood] needs to look into more housing…the overcrowding has made the RAs a little more conscientious about some of the problems that crop up [when residing on-campus]" said Matthew Koberlein, Loughran Hall – resident assistant.
One resident student, senior Ehrin Faulborn said, "There is definitely a problem with overcrowding being that they turned one of the lounges in Immaculata into a room. I think that there needs to be a better solution to living on campus so that they don't have too many people in one room."
Before Marywood can accommodate more resident students, more housing must be built. As Sechler points out, the problem with accommodating the growing resident population is that building more student housing takes many steps and much planning. "It's a two year process," said Sechler Building new housing is a matter of "where, when, and how," she explained.