Local area ranks nationally for binge drinking
Robert Smith, Assistant News Editor/Videographer
February 21, 2012
Marywood students should not be surprised to receive a special kind of card on their 21st birthday.
The University's Student Health service sends a card to students the day they reach the legal drinking age. The card features information on the dangers related to drinking such as alcohol poisoning.
The messages urging students to drink responsibly are perhaps timely in light of the recent Centers for Disease Control survey announcement, ranking the area of Lackawanna, Luzerne, and Wyoming counties as the fourth in the United States for binge drinking, and first in Pennsylvania. The study data, released on Jan. 10, was compiled by the CDC's Behavioral Risk Factor Surveillance System which uses telephone surveys.
The survey used a pool of 458,000 Americans in 48 states and D.C., aged 18 and older, and queried participants about their drinking habits over the past 30 days. The study defined "binge drinking" as consuming four or more drinks for women, and five or more drinks for men, in one sitting. The end result of the study: one in six Americans binge drink.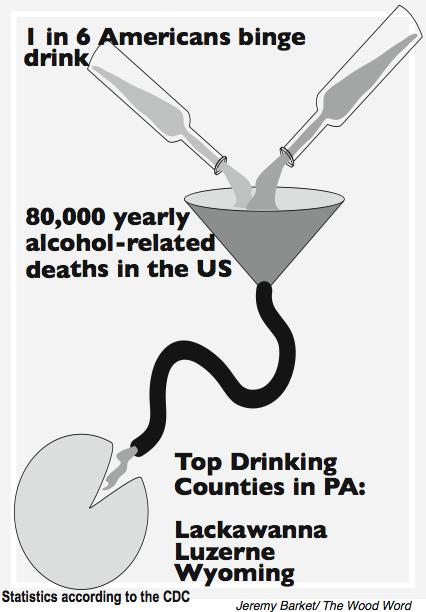 Statistics show that more than 80,000 people in the U.S. die every year from circumstances related to over-consumption of alcohol.
"Students often don't realize the dangers of drinking," said Linda McDade, director of student health at Marywood. "They think consuming alcohol is a harmless activity, but they're often brought into the hospital unconscious."
The inspiration for Marywood University's birthday card program is the story of Bradley McCue, a Michigan State University student who, on the eve of his 21st birthday, November 4, 1998, consumed 24 shots of liquor in less than two hours as part of a birthday ritual. McCue died in his sleep hours later from alcohol poisoning. His family would go on to found Be Responsible About Drinking, or B.R.A.D. This organization promotes understanding the dangers of alcohol poisoning for those reaching the legal drinking age. They began a program to send birthday cards to college students when they reach 21. Over 130 colleges in the United States, including Marywood University, have joined in on this program.
In 2010 Marywood University was ranked 14th in the Princeton Review's "Stone-Cold Sober Colleges." According to Marywood's campus safety page, there were 160 alcohol violations in residence halls in that same year, up from 143 in 2009. Despite this statistic, Marywood is officially a dry
campus. No student may have alcohol on campus, nor can he or she return to campus while intoxicated.
In light of the CDC study, ranking the area surrounding Marywood University as one of the highest in the nation for binge drinking, the statement located on the inside of the B.R.A.D. birthday card seems more appropriate than ever; it reads "We want you to turn 22 . . . . Celebrate Responsibly."