Senior gift provides student opportunity to give back
With graduation quickly approaching, Marywood University seniors have begun donating money to the 2012 senior class gift, a legacy that will support incoming freshman financial aid and benefit the Marywood community.
A long standing tradition of the Marywood Alumni Association, the senior class gift is a way for the departing class to show their appreciation for the institution. Starting this year, students are able to specify where exactly they want their donation to go. They may choose to give directly to the University, to the Marywood Scholarship Fund, or to a specific department of Marywood, such as the School of Architecture,the Schwartz Center for Spiritual Life, or a student club.
"I like that we can donate to a particular area of the University" said senior Ryan Duggan.
The Alumni Association has begun a challenge to get senior participation in the class gift up to 50 percent. On Feb. 29, the Association handed out vouchers for free nachos at First Stop to any senior who pledged to the class gift. Any graduating student who pledges, and encourages three friends to pledge, will receive a Marywood hoodie.
While the senior class gift is a symbol of Pacer pride, it is also vital to Marywood. According to a flyer from the Alumni Office, "the cost of tuition does not cover the total cost to operate the University, or to educate one student." Marywood relies on the more than 30,000 members of the Alumni Association to aid the University in providing an education and a community to its students.
According to Rose Jacklinski, assistant director for constituency relations, the senior class gift is about becoming involved in the tradition, rather than seeing who can donate the most. "Every little bit counts," said Jacklinski. "It is not the amount of the gift that matters, it's about being willing to make a gift, and be a part of the participating alumni."
Pledging has already begun and will continue up until graduation. Representatives of the Alumni Association will be present at several athletic events, Senior Week, and at the Woodlands Apartments on April 1.
As the class of 2012 prepares to depart, the Marywood Alumni Association's new slogan reminds them that while they may be graduating, they will always be Pacers. It reads: "Marywood, A Part of Your Life, All of Your Life."
About the Contributor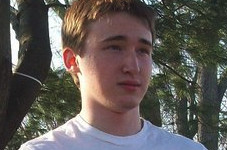 Robert Smith, Online/Multimedia Editor
NAME: Robert Smith
YEAR: 2015
MAJOR: Digital Media and Broadcast Production

ABOUT: I am currently a junior at Marywood University. My job title at...