Survey results reveal students' perceptions of religious climate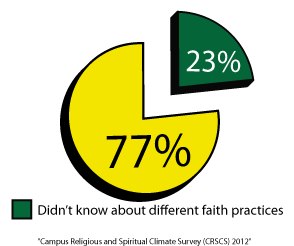 Findings from last spring's Campus Religious and Spiritual Climate Survey suggest that while students have grown in their appreciation for other faiths during their time at Marywood, they don't actually know much about them nor do they feel challenged to explore the reasons for their own faith.
Dr. Ellen Boylan, director of institutional research and assessment, said that out of the 1,104 surveys sent to all undergraduates, 114 were completed in full. She also stated that even though the response rate was low, suggestive data can still be derived from it.
The outcome of the 208-question survey shows that students find campus to be welcoming. "There's a sense of calm and acceptance [rather than] a sense of threat felt by the students in regard to whatever they profess as their worldview," Boylan said.
Boylan insured that students responded saying that various faiths, such as Buddhism, Mormonism, Evangelical Christianity, Atheism, and Islam, had good principles. "It was very encouraging that there was a mature acceptance of others," she said.
Sr. Catherine Luxner, director of campus ministry, said that while the survey shows that there is openness to other faiths, a small percentage of respondents indicated they did not know much about them. "One of my hopes for this interfaith activity…would be that we develop at least a fundamental literacy about world religions," she said.
At a university where 60% of students identify themselves as Catholic, some students believe that Marywood should be more proactive in the services it provides for those of other faith and non-faith traditions. "I feel like Marywood is diverse, and they like to be that way, but they don't always follow through completely," said Kayla Janus, a first-year physician's assistant graduate student. "I think they could do more. If they're going to have students of different religions, they should at least accommodate," she added.
Luxner admitted that it is difficult to accommodate the multitudes of faiths that Marywood students might have. "The reality is we have Catholic religious services on campus, [but] we don't have other religious services. It's not that we try to exclude them, but we can't provide for everybody," she said.
Boylan said another major finding was that students reported they had rarely felt discriminated against for their worldview, "although at times they've heard insensitive comments from friends or peers or in classroom discussions."
Sarah Yuest, senior mathematics secondary education major, said that while she believes that Marywood is accepting of individuals with diverse worldviews in general, she has had experiences in classes where her worldview was criticized not only by peers, but professors as well. "Even if there is a little indication that there are instances where people felt they weren't accepted for their beliefs, [the university should] use [the information] to determine why because even on a small setting, it's still occurring."
"The best way to [promote acceptance] is to provide an environment where people can explore and discover and learn," Luxner stated.
Boylan and Luxner said that they are uncertain what further will be done with the survey findings since they are still being evaluated and distributed.
About the Contributor
Sarah E. Cruz, Copy Editor
Sarah is serving her second year as Copy Editor having previously held the positions of News Section staff writer, Assistant News Editor, and News Editor....