Marywood reaches out to Hurricane Sandy victims
Although Marywood was kept safe during the wrath of Hurricane Sandy that wiped out many along the east coast in November, Campus Ministry is finding ways to reach out to those affected through service and mission opportunities.
Ann O'Brien, assistant director for service-learning and community service, explained that Campus Ministry has been collecting donations for a number of items such as toiletries, cleaning supplies, food, batteries, garbage bags, and Visa gift cards.
Campus Ministry has also organized volunteer trips this past November 10 and 11, and also on December 2 and 8. Seventy-five students, one alumnus, and two staff members from Marywood traveled to Ferry, NJ, and Gerritsen Beach in Brooklyn, NY to help in the relief efforts.
"We met people who were just thankful to survive. That's very powerful," said O'Brien who explained that students did odd jobs such as cleaning houses. "It looks like trash to you and me, but it's these people's whole lives."
Kathryn Varunok, a senior psychology major who has family members in Gerritsen Beach, helped connect Marywood's Campus Ministry to the area. "Everyone down there is so busy with work and trying to take care of their families and everything, so that on top of the house is a lot to deal with. We have the resources and the energy, the emotional energy, to go down and help out," she said.
Varunok said that the houses she helped clean were damaged with 4-7 feet of sewage water, and also had mold. "We basically do whatever we have to do," she said, adding that lately they have been helping organize the relief center where donations are collected. The relief center also provides a place where residents can come to get warm, charge their cell phones, or just take a break from their now stressful days of emotional and physical distress.
"Basically we just gut all the houses. It's sad because it's all of their personal belongings just gone. Everyone's been pretty devastated," Varunok said.
Lydia Mahonski, freshman pre-physician assistant major, also helped clean out homes during the service trips. "The second time that I went to New York, I helped clean the house of a 75-year-old man. Everything was still soaking wet.  There was mold all over, and the smell was almost unbearable. We ended up throwing away just about everything that was in the house, which was very sad to see."
O'Brien said that Campus Minisitry has already taken two donations of supplies to New York, organized a blood drive, worked with Samaritan's Purse, an international Christian relief and evangelism organization, given monetary donations to The Red Cross, and would like to continue service in the spring.
"It really shows who we are as a community," said O'Brien.  "We have a heart for service."
To make donations to those affected by Hurricane Sandy, contact Kathryn Varunok at [email protected], Ann O'Brien at [email protected], or visit the Campus Ministry office located in the Swartz Center for Spiritual Life.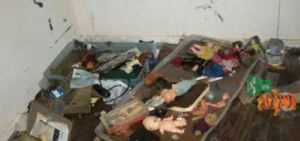 Many of the homes in Gerritsen Beach, Brooklyn, NY, suffered severe water damage due to the effects of Hurricane Sandy.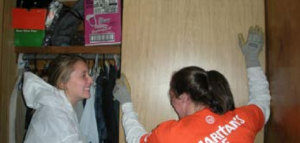 Pictured left to right, Domenica Hudy, and Meghan Coyle in Little Ferry, NJ, helping to clean and repair homes after Hurricane Sandy.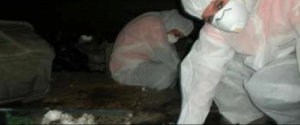 Marissa Pulcini at Little Ferry, NJ, helping to clean under a home damaged after the natural disaster.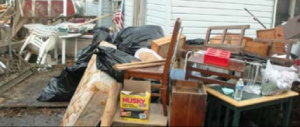 Countless families lost most of their belongings after Hurricane Sandy swept through their communities.
About the Contributor
Elysabethe Brown, Editor-in-Chief
NAME: Elysabethe Brown
YEAR: 2014
MAJOR: Broadcast Journalism
ABOUT: I love writing and have since I was a little kid. I also like to spend time...