Art Department creates blog to increase enrollment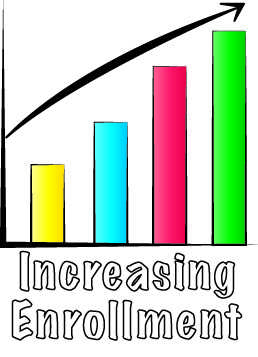 Editor's Note: Because of a decline in new student enrollment last year, Sr. Anne Munley, I.H.M., Ph.D., president, formed an Enrollment Management Task Force. The Task Force is working on four main areas of emphasis in determining how to combat the enrollment issue.  One of those includes best practices for recruiting new students. This article is the first in a series that will highlight departments' recruitment efforts.
The Art Department has created a blog to attract prospective students.
Sue Jenkins, clinical assistant professor of art, started a blog for the Art Department. Jenkins was inspired by the Communication Arts Department's blog, Frame Your Future, and took it upon herself to create, Where Creativity Works.
Where Creativity Works, is a blog designed on WordPress to promote everything associated with the Art Department. The site highlights student's work, faculty shows, alumni, and welcomes guest bloggers.
Eleven students from the Art Department faithfully contribute to the blog. Jenkins sought out students in each medium of art. The students selected are considered student ambassadors, as they serve as the voice of their majors.
On the blog, students talk about their experience as art students, projects they are working on, classes they are taking, and activities they engage in on and off of campus. The idea of the blog is to give readers the student perspective.
"It gives people a taste of who students are and what it's like to study in their area." said Jenkins.
Student Ambassadors include: Allyson Hawk, a junior graphic design major; Amanda Hinkel, a senior art history and arts administration major; Emma Pilon, a sophomore ceramics and art administration major; Hope Sholly, a junior Spanish major with a minor in painting; Kristie McNeill, a junior art therapy major; Matthew Shamnoski, a sophomore sculpture major; Samantha Ziemba, a junior art education major; Shelby Farrell, a senior illustration major; and Ty Mah, a sophomore photography major.
Elizabeth Carlson, a sophomore graphic design major, and Katlynn Whitaker, a sophomore graphic design major, also write for Where Creativity Works. Carlson writes about off campus art news as well as jobs and internships in the art field. Whitaker writes about on campus art news and alumni success stories.
Writers learn to talk about their work and communicate effectively to an audience about what they have created. The blog also helps students get their work out there. Writers have their own page on Where Creativity Works, which shares a little more about each writer with the audience.
"Writing for the blog has been a pleasure," said Pilon. "It's a great platform to share what I am most passionate about with other people, and it keeps me thinking critically about my own work."
Jenkins trained the eleven writers on WordPress and Photoshop. Before the blogs launched on Feb. 2, each student had two posts under their belt. The due date for the writers to post a draft of their work is every Friday. Writers a required to write 100-300 words each post.
From there, Jenkins edits what the students write and schedules them to publish. Jenkins schedules two posts a day except for Saturday, Sunday, and Monday. The student's posts are shared at 9:30 a.m. and 9:00 p.m. Every post that is published on Where Creativity Works is then shared with the Art Department's Facebook and Twitter.
"This has been a bigger success than I anticipated," said Jenkins.
Where Creativity Works currently has 769 followers.
Because of the department's social media, Where Creativity Works has gained followers from England, Mexico, Spain, Germany, and Saudi Arabia.
"I am so thrilled at how this is being perceived by the public," said Jenkins. "Not just Marywood and not just Scranton, but by the United States and the rest of the world."
Where Creativity Works also informs students how they can become involved in the Art Department, clubs and organizations, study abroad. It also provides guidance about careers that are available with an art degree.
For more information visit wherecreativityworks.wordpress.com.
Contact the writer: [email protected]