101st Opening Liturgy starts the year on a historical note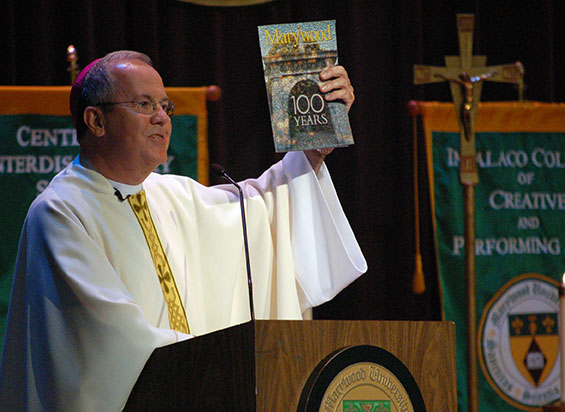 On Wednesday, Sept. 2, Marywood University officially began the year with its annual Opening Liturgy. The Mass marks the 101st the University has held so far, and was celebrated by Most Rev. Joseph C. Bambera, bishop of the Diocese of Scranton.
In an email sent to both employees and students, Sr. Catherine Luxner, IHM, director of campus ministry, said that this Mass had a historic implication.
"On September 8, 1915, Bishop Hoban offered the very first Mass of the Holy Spirit and addressed the students," Luxner said in the email. "To mark this special centennial moment in Marywood's history, Bishop Joseph Bambera, Bishop of Scranton, will be with us as principal celebrant and homilist."
The Mass was held in the Sette LaVerghetta Center for the Performing Arts, starting a few minutes past 11 a.m. Approximately three quarters of the center was full, with students, faculty, and staff filling the seats.
Sr. Anne Munley, IHM, Ph.D, president of the university, welcomed all in attendance, offering advice to both students and faculty and staff, both new and returning.
"Although you may feel overwhelmed today," Munley said to new students, "your years at Marywood will pass quickly."
During his homily, Bishop Bambera praised the university, saying it has done great work in educating his students.
"For 100 years, Marywood has stood as a beacon of a Catholic university," Bambera said. "[It] has encouraged women and men to reach their full potential."
Bambera took this to a personal level by referencing the most recent issue of Marywood, The Magazine of Marywood University.
In a segment entitled "Generations of Marywood Pride," a student from the graduating class of 1935 named Antoinette Camille Rusin Lathrope was profiled.
Bambera said that when he read this section, it "brought tears to [his] eyes," as he realized that the section was profiling his aunt.
"I recall my aunt speaking…affectionately and proudly [of Marywood University]," Bambera said.
After the Mass, both Munley and Bambera spoke positively of the Mass.
"[This was] beautiful liturgy and showed the true spirit of our Marywood core values," Munley said. "Bishop Bambera delivered a beautiful expression that we will hold deeply in our hearts."
Munley also expressed excitement over next week's Centennial events, excitement that was echoed by freshman marketing major Cory Conserette
"I'm looking forward to next weekend's [Centennial] events," he said.
Bambera, who Munley said would be in attendance at many of next week's Centennial celebrations, shares Munley's and Conserette's feelings.
"I'll be here more than I'll be at my own office," Bambera said with a laugh.
Anne Zukowski contributed to this report.
Contact the writer: [email protected]