President Trump's travel and refugee ban impacts Marywood
Update: On Feb. 4, a federal judge in Washington state temporarily stopped President Trump's executive order, according to CNN. Sean Spicer, White House press secretary, said in a statement "at the earliest possible time, the Department of Justice intends to file an emergency stay of this outrageous order and defend the executive order of the President, which we believe is lawful and appropriate."
President Trump had a busy first week as president by issuing six executive orders, one of which was a travel and refugee ban.
The ban blocks any refugees from entering the country from seven predominantly Muslim countries and suspends Syrian refugees from entering the United States for 120 days, according to CBS News.
The seven countries where individuals will now be unable to enter the U.S. includes Iraq, Iran, Syria, Libya, Yemen, Somalia and Sudan.
President Trump's executive order resulted in protests at airports across the country, with many Americans unhappy by the detainment of those who were arriving to the U.S. from one of the seven countries.
Marywood's administration objects to ban, faculty show support for students
Marywood's administration, faculty and staff have made public responses to speak out against President Trump's executive order.
According to an email sent to the Marywood community, the IHM Congregation objected to the executive orders on immigration. Pacers for Justice and Peace, a newly formed group made up of faculty and staff, held a prayer and reflection on Feb. 2 to bring the community together and create open places for dialogue and support.
Additionally, Pacers for Justice and Peace invited all members of the community to wear green and gold ribbons to represent Marywood's core value of respect. Students who are concerned are encouraged to speak with an individual on campus wearing a ribbon.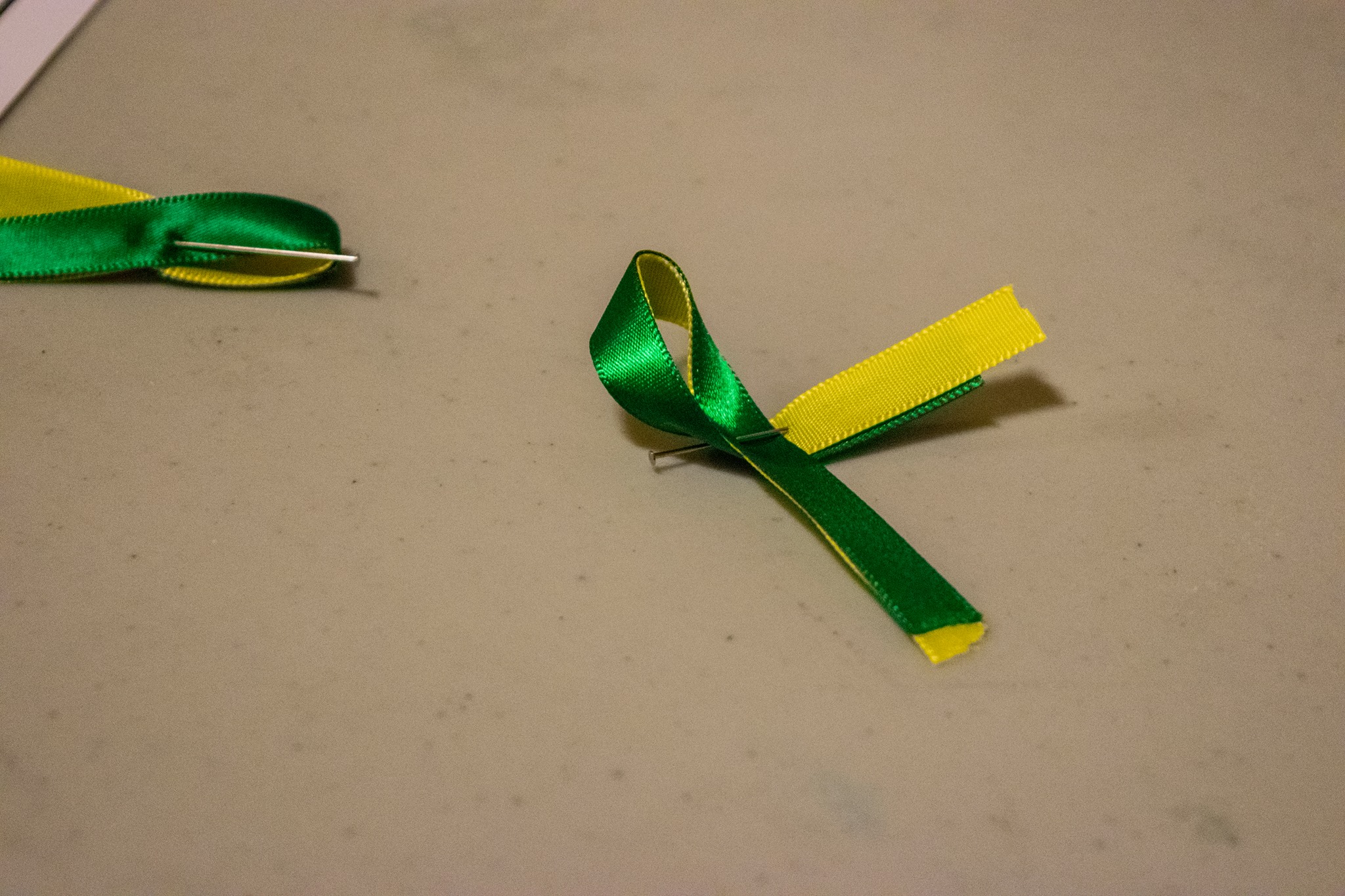 Photo credit/ Bethany Wade
Dr. Samantha Christiansen, assistant professor of History, said she was heartbroken when she first heard about the executive order.
"I just don't think this is what the U.S. is," said Christiansen. "It's not what I ever believed it was."
According to Christiansen, international students face many challenges when studying in another country, and now these difficulties have worsened by the ban. She described it as a "really demoralizing and sad" experience for international students.
"We've tried to support and find ways to support students in every way that we can," said Christiansen. "If [international students] are feeling vulnerable, know that there is an army of people willing … to hear their concerns and help in a way that we can."
Marywood students react to executive order
Marywood Alumna Poshya Ahmed, a 2016 graduate who is Kurdish and from Northern Iraq, said she couldn't eat for an entire day when she first heard about the ban.
Ahmed said the executive order has eliminated the difference between a student and a terrorist.
"It makes me so sad and it's really scary because it's totally two different categories," said Ahmed. "It's really, really important that students can have this opportunity to come [to the U.S.] and study."
She added that it was always her childhood dream to come to the United States.
"For those people who are waiting to change their life, they lose one of their biggest dreams that all of us have to come [to the U.S.] to study," said Ahmed.
Huner Emin, a graduate student studying studio art, said he feels neutral about the executive order.
Emin said he thinks it may be beneficial if the U.S. does not allow individuals who might be dangerous into the country, but feels students have a legitimate reason to come and stay in America.
"I'm not against it or for it," said Emin. "It's unfortunate for [those from] the seven countries where [the ban] is."
Freshman Aviation Major Yousf Almoumin said he knows international students who are afraid to visit countries in the Middle East because they may not be able to get back into the country.
"It's kind of affecting me a lot because when my dad wants to come here, he will not be allowed in," said Almoumin.
Amanda Hirschler, a senior theater major, said she was upset and frustrated by President Trump's executive order.
"We just got our new president [at Marywood] and she made our motto 'The University of the World,'" said Hirshcler. "We've got so many people from different nationalities who now are afraid to go home for holidays or afraid to leave this country."
Hirschler added that she thinks the executive order will discourage people from attending Marywood.
Senior Advertising and Public Relations Major Katie Wheeler said she feels the ban is not what America stands for.
"We're a nation of immigrants. We are built on the backs of those who had less than the people who were here before us," said Wheeler.
Contact the writer: [email protected]
Twitter: @RLookerTWW