New Faces on Campus: Meet Director of Marketing James Brown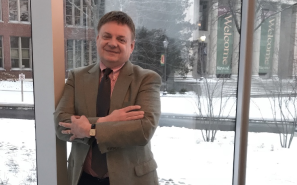 Marywood recently appointed James Brown as the new director of marketing.
In this position, Brown is responsible for developing and implementing an integrated marketing and communication plan for the university.
After Brown received a call from an executive recruiter, he went through a three-month hiring process. That process included a selection committee meeting and extensive time spent around the campus community.
"I had originally never heard of Marywood prior to coming here, but once I came here I really was able to know the people and campus," said Brown.
Prior to accepting his position, Brown was the marketing practice lead for the New York based consulting firm GLP Partners, LLC. During his career, he has also served as the vice president of marketing for Excellus BlueCross BlueShield, Erie Insurance Group, Cigna, MetLife and Citibank.
However, Brown has never worked in higher education. He said he sees this as an opportunity to positively affect the department.
"Not knowing higher education, I can bring ideas that I think make sense, but I can ask the so called 'stupid questions' and sometimes that just sparks thinking down a different path," Brown said.
With this position, Brown has certain plans in mind to improve the marketing and communications department. One of those plans is to make the department more of a strategic marketing group.
"Marketing as it was run in the past was more of a marketing communications organization. I consider myself a strategic marketer. Strategic marketing allows you to step back and look at what the institution stands for and what you want it to be," said Brown.
Brown also explained that there has not been a brand exercise on campus in 10 years. He is looking to change this by launching a "brand refresh" called Project Mint.
Brown said he is pleased that he can help the university grow and develop and said he is grateful to the campus community for being welcoming and supportive.
"It's been long enough where I could very comfortably and confidently step back and say that I made the right decision," said Brown
Contact the writer: [email protected]
Twitter: @BrianaRyanTWW