Faces of the March: Crossing party lines, Alaskan activist and rallying as a family
Hundreds of thousands gathered in Washington D.C. for the March for Our Lives on Saturday, March 24 to demand legislative action on gun control.
The march took place in response to the Feb. 14 school shooting at Marjory Stoneman Douglas High School in Parkland, Florida that left 17 dead.
Participants traveled from all across the country to attend the Washington D.C. march. Find out their stories in the second installment of The Wood Word Faces of the March.
High School Students from Wyoming, Ohio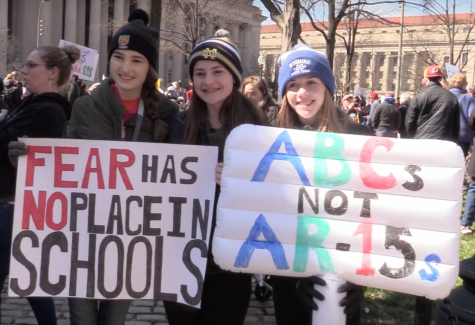 Three students from the city of Wyoming in southwestern Ohio traveled to Washington D.C. to attend the March for Our Lives. Junior Emma Fitzpatric, her sister freshman Maggie Fitzpatric and their friend freshman Sylvia Coyle held signs together in a grassy area of downtown Washington D.C.
All three go to the same high school, and Emma explained that their school is thought to be in one of the safest areas of Ohio, similar to Marjory Stoneman Douglas.
"Now there is a little bit of fear that something could happen to us because it happened to Parkland and our towns are very similar," she said.
Coyle expressed her fear of responding to a possible active shooter situation.
"I was thinking if I go to the bathroom, what would happen if I was walking through the halls and I wasn't in a classroom?" she asked.
Maggie said she hopes there is more gun control legislation after the rally.
"It's about time," she said. "There's too many shootings happening. If there was gun control, we wouldn't be here."
Coyle added that she hopes the march will show legislators that something needs to be done regarding gun control legislation.
"All they are giving are thoughts and prayers and that's not doing anything," Emma said. "We need more than thoughts and prayers."
Both Maggie and Coyle agreed.
Alaskan Native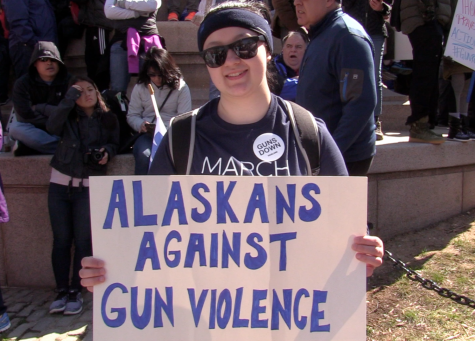 One participant didn't let distance stop her from having her voice heard in D.C., regardless of the thousands of miles that separated her from the march.

Madison Xiong is from Anchorage, Alaska. She attended the rally to represent those in Alaska who say "enough is enough."
"I hope that the politicians in office today can finally see that the citizens of the United States are here to stop everything they are doing in relation to their gun agenda," she said. "I hope that we finally have some common sense gun control come into place."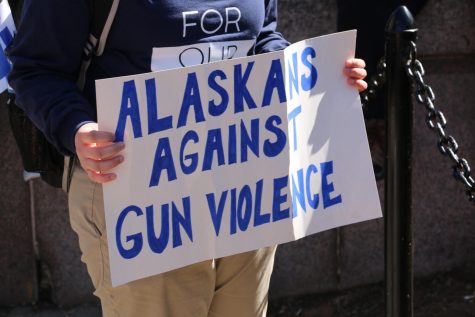 The issue is more personal for Xiong. She said she lost a few people in her life from gun-related suicide, giving her another motive for flying to Washington D.C.
Xiong mentioned that Alaska is a red state and her fellow Alaskan natives do not want their guns taken away. She described this as "unfortunate."
"I'm there to start a progressive movement," she said.
Xiong's message to the government was simple. She said as a part of the next generation of voters, she plans on voting them out.
"I am marching for my life because you are not," she said of politicians.
Woman who crosses party lines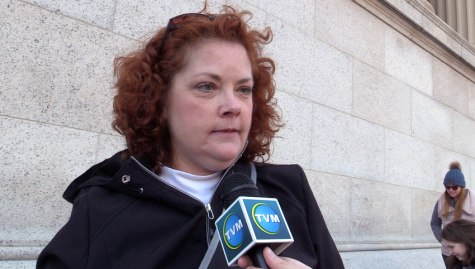 Katy Patton felt the impact of the Stoneman Douglas shooting in her community of Bradenton, Florida, located a few hours from Parkland.

"We just thought it was extremely important to have our voices heard and drive all the way up here to participate in the movement and part of the revolution here," she said.
Patton is a registered Republican. She said she is willing to cross party lines to support gun laws. She added that if Republican politicians are not willing to stand up to corporate lobbyists, she is willing to vote them out of office.
"I support the Second Amendment and the right to bear arms; however, I don't support the types of guns that are available for citizens to purchase that are truly just weapons of war," she said.
She emphasized that 18-year-old Nikolas Cruz should not have been able to purchase a rifle with a documented history of mental illness.
"I will abandon my party because I feel so strongly about this," she said.
Patton has a 12-year-old son and an 18-year-old daughter who is a newly- registered voter. She's putting her hopes in their generation to make the country safe and limit gun violence.
March for Our Lives Volunteer William Holman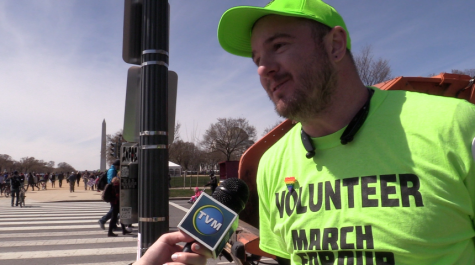 Volunteer William Holman, a college student from Annapolis, Maryland volunteered to help with the march. Holman was distributing free water bottles to participants on the National Mall outside the Capitol Building.

Holman said he has a younger sister in elementary school. In addition to being concerned for his own safety on his college campus, he said he is very concerned for his sister.
"We don't know when the next school shooting is going to happen. It can happen anywhere. We just had a shooting in Maryland," he said referring to the Great Mills High School shooting that left the gunman and one victim dead.
Holman listed a few changes he would like to see regarding gun control including common sense gun laws, stricter background checks and available mental health options.
"We're using 18th century laws for 21st century weapons and it makes absolutely no sense. How much more blood needs to be spilled before we finally come to a general consensus that this is not right?" he said.
As a volunteer, Holman said he wasn't given a predicted number of attendees at the rally, but said he thought the turnout was great.
"I love to see millennials turning out for this because it's our generation that needs to start taking control and driving this country," he said.
Washington D.C. father, daughter duo
Washington D.C. native Craig Schumpert didn't attend the march alone. He brought his 12-year-old daughter Lola.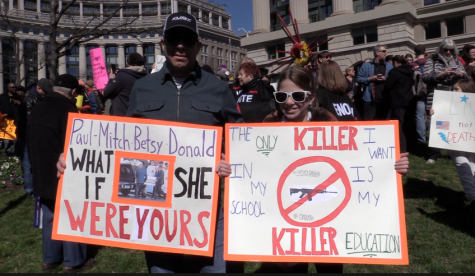 Schumpert's sign asked a question he feels isn't asked enough of politicians: What if he/she were theirs? His sign read "Paul-Mitch-Betsy-Donald What if she were yours" with a photo of a victim of gun violence. The names on the sign refer to House Speaker Paul Ryan, Senate Majority Leader Mitch McConnell, Secretary of Education Betsy DeVos and President Donald Trump.
Schumpert said there needs to be some kind of change to the current system whether it's registering to vote or standing up for certain causes.
"I feel like our leaders have no spine. They're not our leaders. We need something to change," he said.
Lola agreed. One of her reasons for attending the march with her father was because she doesn't want kids to be scared to go to school.
"I hope people will take this more seriously than it is because I think people kind of just blow it over like it's not that important but it really is," Lola said.
Follow The Wood Word for the final article in the Faces of the March series.
Brooke Williams contributed to this article.
Contact the writer: [email protected]
Twitter: @RLookerTWW