New student organization offers political education
The nationally recognized Young Americans for Liberty organization recruited students to form a Marywood chapter.
Patrick Teehan, a junior pre-physician assistant major and acting president of the organization, was contacted by the national organization about starting a chapter.
According to the Young Americans for Liberty website, the organization focuses on educating students about the variety of political rights and freedoms and how to protect them.
"I like a lot of the things the organization advocates for and I noticed Marywood doesn't have a lot of political-type organizations," said Teehan.
The chapter held its first event on March 26 in the Fireplace Lounge, allowing students to stop by and talk to Teehan about the organization. At the event, a variety of pamphlets were available with information about the organization's mission.
National events include a "free speech ball" where students write whatever they want on a giant beach ball, events to educate students on the current wars and why they've been going on for too long and visualizing the United States' debt through a homemade debt clock.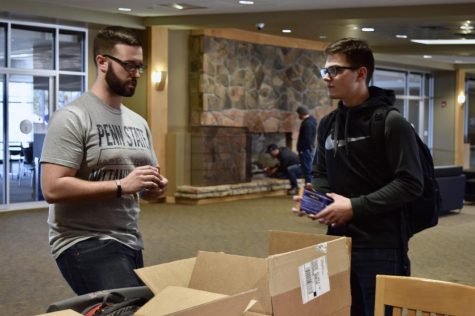 Dylan Rudisail, a freshman criminal justice major, stopped by the table and said he found the organization to be intriguing.
"[Teehan] thought we might have some ideas that could be likeminded and I've been looking for a group to join at Marywood," said Rudisail.
Teehan plans to host another event again this month, hoping to get enough paying dues members to qualify as a chapter by the end of the semester. Dues for each member are only $10 per year.
"We're going to try to have some monthly meetings from here on out so if anyone was unable to come, they can come next month," said Teehan.
Contact the writer: [email protected]
Twitter: @BethanyWadeTWW