NEWS BRIEF: FNCB Bank donates to Momentum Program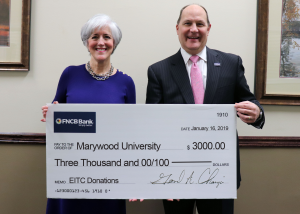 Marywood is using a donation from a local bank to help give high school students a head start on college.
FNCB Bank gave a $3,000 Pennsylvania Education Improvement Tax Credit (EITC) donation to the university for its Momentum Program.
The Momentum Program gives high school juniors and seniors the opportunity to enroll in college-level courses. Students can choose from a variety of courses during the Fall, Spring, Summer I and Summer II semesters.
Leadership Annual Giving Officer Patricia Rosetti said this donation benefits both the university and local high school students.
"The university is grateful to FNCB for their commitment to Marywood in recognizing the financial and educational impact of the program, not only for the university, but for area students as well," said Rosetti.
Contact the writer: [email protected]
Twitter: @BrianaRyanTWW