Marywood donates supplies to local medical facilities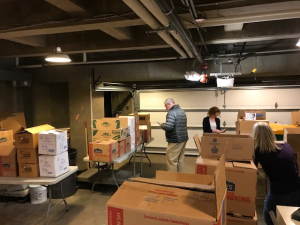 Marywood is helping local medical facilities during the COVID-19 pandemic by donating personal protective equipment that would normally be used in classrooms.
The university has donated medical supplies to Regional Hospital of Scranton, Moses Taylor Hospital, Geisinger Community Medical Center and Marywood Heights.
To collect the personal protective equipment, the university asked departments on campus that would normally use the materials for teaching if they would consider donating them to the facilities according to Marywood President Sr. Mary Persico, IHM, Ed.D.
In total the university divided and distributed the following personal protective equipment to facilities:
422 pairs of gloves
1657 N95 face masks
200 surgical masks
21 disposable gowns
15 surgical masks with eye shields
30 masks with face shields
7 boxes of disposable lab coats
One department that donated materials was the Science department. Department Chairperson Dr. Deanne Garver said the university's mission was part of the reason why the department participated in the donation.
"This action to help healthcare workers under these extraordinary circumstances is the heart of the mission of Marywood," said Garver. "We should be proud of those who serve others in this time of need."
Additionally, Marywood's Respiratory Therapy program has reached out to the facilities to offer the university's supply of ventilators if needed.
Marywood Heights' Chief Operating Officer David Klingerman said he was grateful for Marywood's compassion during these unprecedented times.
"At this time, personal protective equipment is the most scarce resource throughout our country and without it, we reduce our ability to protect our caregivers and the residents at Marywood Heights," said Klingerman. "Their donations will help save lives and we can't thank them enough."
Since the outbreak of the virus in the United States, healthcare facilities have raised concerns over their ability to acquire personal protective equipment.
In a joint letter to President Donald Trump, the American Hospital Association, the American Medical Association and the American Nurses Association requested that he invoke the Defense Production Act (DPA) to increase the domestic production of medical supplies and equipment.
In the March 21 letter, the organizations said that despite the gathering of supplies from strategic stockpiles and other federal resources, there may not be enough medical supplies to respond to the projected extent of the COVID-19 outbreak.
Contact the writer: [email protected]
Twitter: @BrianaRyanTWW