Castro Steps Down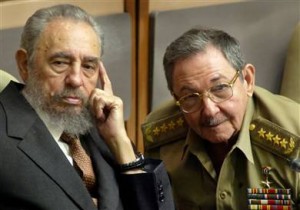 By Kevin Zwick
Staff Writer
At about 3 A.M. on February 19th, CNN International announced that Fidel Castro had resigned as President and Commander-In-Chief of the Republic of Cuba. He will delegate the power to his brother Raul Castro, who has been acting as President since Fidel underwent surgery in 2006 due to an illness. The 81-year-old said he would not accept the post of president of counsel of state or commander-in-chief.
Castro came into power after leading a guerilla revolt to overthrow the corrupt regime of Fulgencio Batista in 1959. As premier, Castro established a socialist state and instituted land, industry, and educational reforms. His regime became dependent upon the Soviet Union when the US implemented trade sanctions on Cuba. At the end of the Cold War, Cuba's economy was in such bad shape, its foreign debt per capita was one of the largest in the world.
Castro lead Cuba though the terms of 10 US presidents, survived multiple CIA-organized assassination attempts, and served through several historic events such as the Cuban Missile Crisis, the assassination of JFK, and the Fall of Communism. His dominance came to an end in 2006 when he underwent surgery for an intestinal infection, and his brother took over as president.
The ailing Fidel Castro has not dropped out of the geo-political scene, having just finished a 5-part essay written against the current Bush Administration and Republican candidate John McCain. Castro reportedly wrote the essays to be used as a weapon for future leaders to use against his worst adversary, the United States.