Changes in transportation options present new challenges for students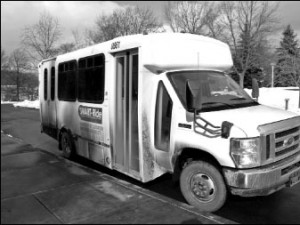 Editorial Board
Transportation options for Marywood students have changed significantly since the beginning of the 2011 spring semester. Marywood students have seen substantial changes in transportation due to the elimination of the Smart Ride program and the release of the new WeCar program.
The Smart Ride program has conveniently serviced Marywood students for several years but, on January 31 the program will be eliminated due to high operation costs.
The WeCar program introduced a new hybrid rental option for Marywood's community in January.  The elimination of the smart ride program and the introduction of the WeCar program are not connected. However, the timing of their elimination and introduction highlight new transportation challenges facing Marywood students as a result.
Smart Ride provided a valuable service, free of charge to Marywood University students. This method of transportation commuted students between the University of Scranton and Marywood University. The Smart Ride program allowed students without vehicles on campus, as well as students without a valid driver's license, the ability to get around easily and efficiently.
The elimination of Smart Ride is unfortunate because students no longer have a cost efficient form of transportation.  The elimination of Smart Ride for students that commute between both Marywood University and University of Scranton poses new challenges.
The WeCar program, while environmentally friendly and a new transportation option, presents a significant financial burden on students who may have formerly utilized the free Smart Ride program. Now, to go downtown to see a movie, not only does a user have to pay a movie ticket fee but rental fees.  New members to WeCar are required to pay a one time $20 application fee and a $50 annual membership fee. In addition to these initial fees, members choose from a variety of expensive plans.  A WeCar member can rent a vehicles for $9 an hour, $50 a day, or $30 overnight (8pm-8am).  Students are credited with 200 free miles per rental and $0.20 each additional mile.
Only time will tell whether the elimination of the Smart Ride will be felt across campus, and whether the WeCar will be utilized by Marywood University  students.