Bookstores play role in communities, democracy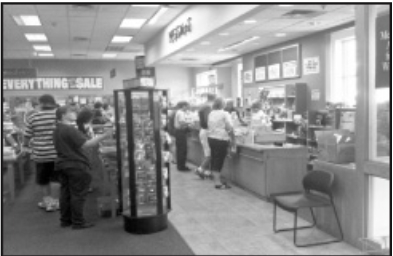 Photo Credit: Joe Petro
Borders holds going-out-of-business sale and patrons get in line to purchase the remaining merchandise.
The Wood Word Editorial Board
It is, perhaps, a sign of the times.
The bankruptcy-driven liquidation of bookstore operator Borders Group Inc. over the summer threatened to strip the Scranton area of one of its few remaining large-scale bookstores.
Borders Group, which filed for Chapter 11 Bankruptcy in February, failed to put together a feasible plan for survival, leading a U.S. Bankruptcy Court to force the company, and its 399 stores, into liquidation in July.
Fortunately for the area, the Dickson City Borders, Store No. 442, still has a chance. It is one of just 14 Borders locations nationwide that will be taken over by Alabama- based Books-a-Million, according to an Aug. 29 report in The Wall Street Journal.
This effectively means that even after Borders shuts its doors, the Marywood University community, and wider Scranton area, still will be within relatively close proximity to a place to buy books, in an actual store.
Books-a-Million expects to take over the leases of the 14 Borders stores by Sept. 20, although the Scranton Times-Tribune reported that Books-a-Million will start running the stores by Oct. 1, "or after Borders finishes [its] going-out-of-business sales."
In either case, a resource that Valley residents have for years depended upon for their research, literary and coffee needs, will still be there.
However, Borders' collapse is indicative of a wider trend in the U.S. bookselling industry: people just aren't buying or reading books in their classic, paper form (if they are reading books at all).
The events and decisions that led to Borders' demise are still somewhat up for debate. Reuters, among others, blamed a string of poor business decisions by the company's management, particularly its 2008 decision to break off a seven-year partnership contract with Amazon in order to launch its own e-commerce platform.
But other major bookstores, while still in business, are suffering as well. Books-a-Million, for instance, reported a $6.4 million net loss for the six months leading up to July 30, as net sales slumped 11.2 percent from the same period a year earlier. And even as the company is buying out the leases of those 14 Borders locations, it is closing four of its current 230 locations, according to Media Bistro.
By the same token, Barnes & Noble Inc., the world's largest bookseller, saw a 3 percent drop in store sales for the three months leading up to July 30, with sales of actual physical books falling even more sharply than that. By contrast, the company's online sales jumped 37 percent during the same period.
The downward trend can only leave one to wonder: How long will Books-a- Million itself last in the Dickson City location? How long before our community is completely devoid of bookstores with any respectable selection or caliber?
The trend of readers shifting toward e-readers and online book purchases seems to be ever-growing, and, for this editorial board, ever-troubling.
Most avid readers would agree, we think, that the advent of online bookstores, such as Amazon.com and Barnes & Noble's own web-based platform, are big advantages. They bring a massive, warehouse-sized selection of books that no local book retailer could ever provide.
Similarly, the growing popularity of e-readers, such as Amazon's Kindle, Barnes & Noble's Nook, Sony's Reader, and Apple's iPad, offer tremendous convenience. With these, one has the ability to easily access thousands of titles from a device that is smaller and lighter than a single letter-sized notebook.
However, we strongly feel that this technology should supplement, not replace, local bookstores.
There are a variety of experiences that go along with purchasing and reading a book in this traditional way—experiences that one simply cannot get by downloading text to an e-reader, or by receiving a book in the mail.
Bookstores offer the opportunity to peruse titles, leaf through books, and discover new authors and topics.
Bookstore shopping is very much a social occasion. One can interact with staff, many of whom can offer advice and suggestions on a personal level that no website or download portal can match. It is a meeting place for friends—one that is more conversationally friendly than a shopping mall or movie theater. Books, after all, are conversation starters.
Bookstores also represent what Ray Oldenburg, author of "The Great Good Place," defined as a third place, or public places on neutral territory where people can gather to interact—the very heart of community and functioning democracy. According to the Project for Public Spaces, third places, like bookstores, "promote social equality by leveling the status of guests, provide a setting for grass- roots politics, create habits of public association, and offer psychological support to individuals and communities."
Bookstores offer much more to a community than simply serving as a place to buy the latest romance novel. They play an important role in our communities and in our democracies—one this editorial board hopes our community will continue to support and fight to keep.