News from Beijing: Study abroad an eye-opening experience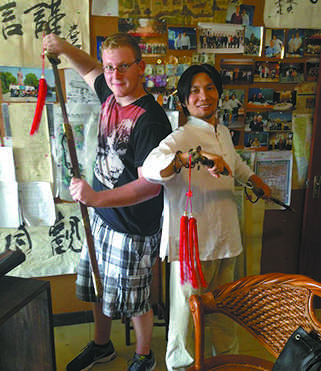 An update from 北京 (Beijing)
Editor's Note: Mike Magistro is Marywood's first student to study in China for an entire semester. Follow his journey in each fall issue of The Wood Word.
同学们好! (Hello Classmates) I've been in Beijing, China, for almost a month now studying the Mandarin language.
The culture of this city is a stark contrast to that of any city in the United States. The people of China are for the most part very polite and are bewildered at the sight of foreigners. Despite this, they are very welcoming and willing to help in any way possible.
The food has been different but delicious. Most of it is prepared very quickly by traditional Chinese methods, with the wok and flat hot sheet. Even though the food is cooked with oil, it has been surprisingly healthy.
I've been on many excursions in these last few weeks, including a trip to the Forbidden City, Tiananmen Square, and the 798 Art District. I've even met a famous garden designer who showed me how to construct a traditional Chinese garden.
Being the first student from Marywood in China for a semester has been such an amazing experience. It's been a real eye-opening experience thus far in Beijing, and I cannot wait to see more over the next few months.