Bill O'Reilly: Pinocchio news anchor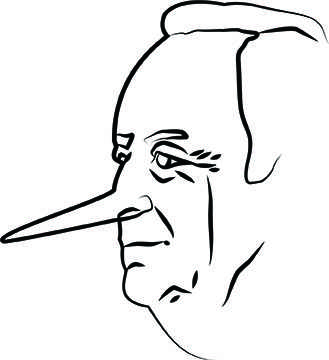 Only weeks after the Brian Williams scandal, another famous news anchor has been accused of making false reports. According to the Huffington Post, Mother Jones Magazine claimed that Fox News host, Bill O'Reilly, is at fault for reporting several inaccuracies in his war coverage experiences during the 1982 Falkland Wars.
According to News-press.com, O'Reilly claimed to have been involved in combat situations, seeing truly horrendous things. News outlet Mother Jones and reporters who previously worked with O'Reilly claim, however, that he was not involved, and in at least one instance, was not even there.
In 2009, O'Reilly said, "I am not easily shocked. I've reported on the ground in active war zones from El Salvador to the Falklands."
According to Bob Schieffer and others from CBS who were with O'Reilly in Argentina, O'Reilly never made it to the Falklands. O'Reilly was actually a thousand of miles away from the Falklands, covering a protest in Buenos Aires. Over time, O'Reilly has tried to make himself seem heroic, once even claiming that an M-16 was aimed at his head.
Some Americans have relied on O'Reilly for decades. According to the Huffington Post, O'Reilly was named the most trustworthy news anchor on more than one occasion prior to the controversy. Post-controversy, according to a Huffington Post poll, now only 35 percent of Americans find O'Reilly to be trustworthy.
To make matters worse, O'Reilly threatened New York Times reporter Emily Steel to prevent her from reporting the story inaccurately. According to The Washington Post, during a phone interview, O'Reilly said to Steel: "I am coming at you with everything I have. You can take it as a threat."
Instead of publicly apologizing about his fraudulent experiences, O'Reilly made a threat to cope with his frustrations.
O'Reilly should know better. Whether or not O'Reilly is thought of a reporter or just a "commentator," he knows how the news business works. He knows that Steel was just trying to get to the truth of the matter. She was simply trying to do the job that they were both trained to do.
He should also know that, by taking such a standoffish tone, he certainly wasn't making himself look any less guilty.
And to top it all off, Fox News is standing by his side.
According to The Washington Post, "A Fox News spokesman said that 'O'Reilly was not an eyewitness to any bombings or injuries in Northern Ireland. Instead, he was shown photos of bombings by Protestant police officers.'"
How can Fox News stand by a man caught in a lie? How can O'Reilly not suffer any repercussions from his employer?
What Fox should do is follow in NBC's footsteps. According to CNN, NBC took Brian Williams off the air for six months without pay while they investigate the situation, as Williams admitted to inflating stories regarding his time spent reporting in Iraq. Brian Williams has also apologized for his scandal.
O'Reilly needs to suffer the consequences if he wants to gain any sense of dignity back. Rather than making threats and verbal attacks, O'Reilly should, at the very least, take responsibility for his actions and publicly apologize to his once loyal and trusting viewers.
According to the Society of Professional Journalists' Code of Ethics, journalists need to "seek truth and report it" above all else. If this has not happened, consequences must come.
Contact the writer: [email protected]