The top 10 trees on campus
Springtime is finally here at Marywood University! As implied in our name, Marywood is home to a variety of plant life, including trees that are bright, colorful, and fragrant. When springtime rolls around, these trees bring new life to campus and signify the end of a long winter and the beginning of warmer weather.
In 1997, Marywood received official designation as an arboretum, which is defined as "a place grown with trees or a place where trees, shrubs, and herbaceous plants are cultivated for scientific, educational and/or aesthetic purposes," according to Marywood's website.
Marywood no longer holds the Arboretum designation, despite efforts by the Student Government Association in 2019. Although the university is no longer a designated arboretum, the campus is still home to a variety of beautiful trees that make up a thriving ecosystem on campus. It's hard to pick a favorite, but here are my picks for the top 10 trees on campus.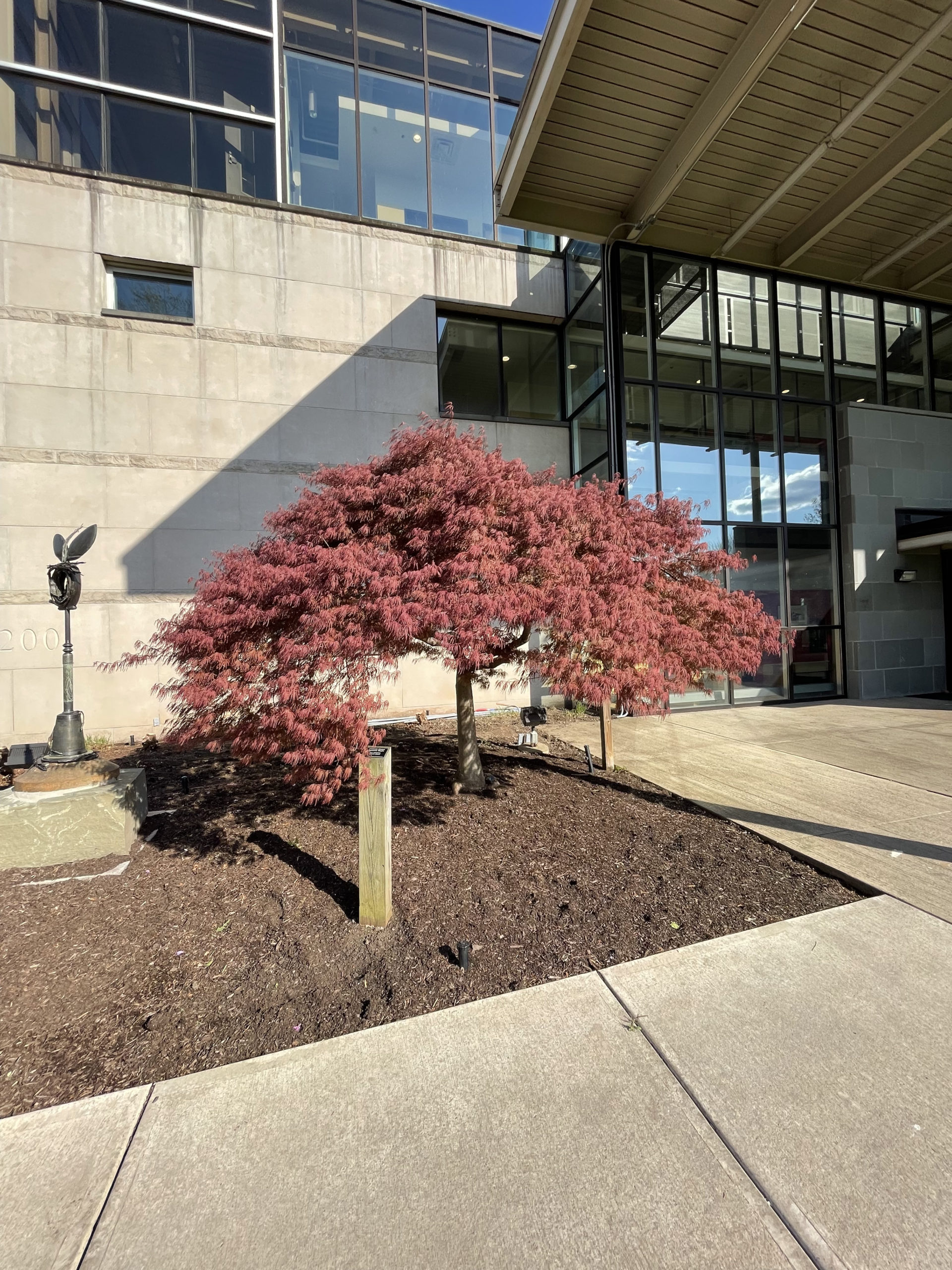 10. Crimson Queen Japanese Maple
Native to Japan, China, and Korea, the Crimson Queen is a small, bush-like tree outside the Insalaco Center for Studio Arts. Unlike a typical maple-leaf shape, the Crimson Queen Japanese Maple tree has thin, soft, pine-needle-like leaves that contribute to its bush-like appearance. Its striking dark reddish/purple color is typical of Japanese Maple trees and pairs beautifully with the surrounding greenery.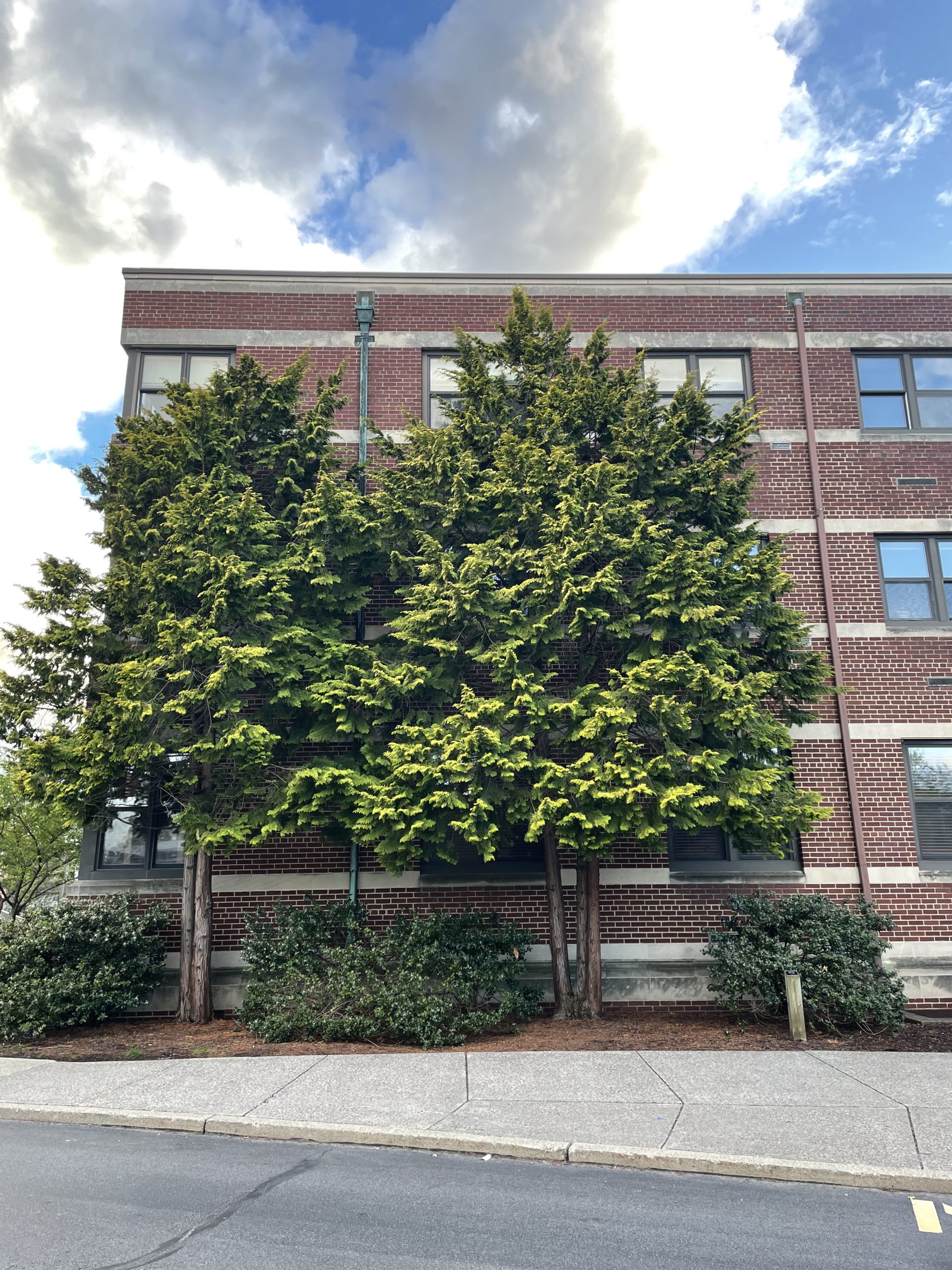 9. Crippsii trees located outside of the Liberal Arts Center
Although not a flowering tree, the Crippsii might be one of the most unique trees on campus. Native to Japan, this tree resembles a pine tree, however, its needles are soft and flexible. It stays light green/yellow all year long and its vibrant color is a nice contrast to some of the other, darker evergreen trees on campus.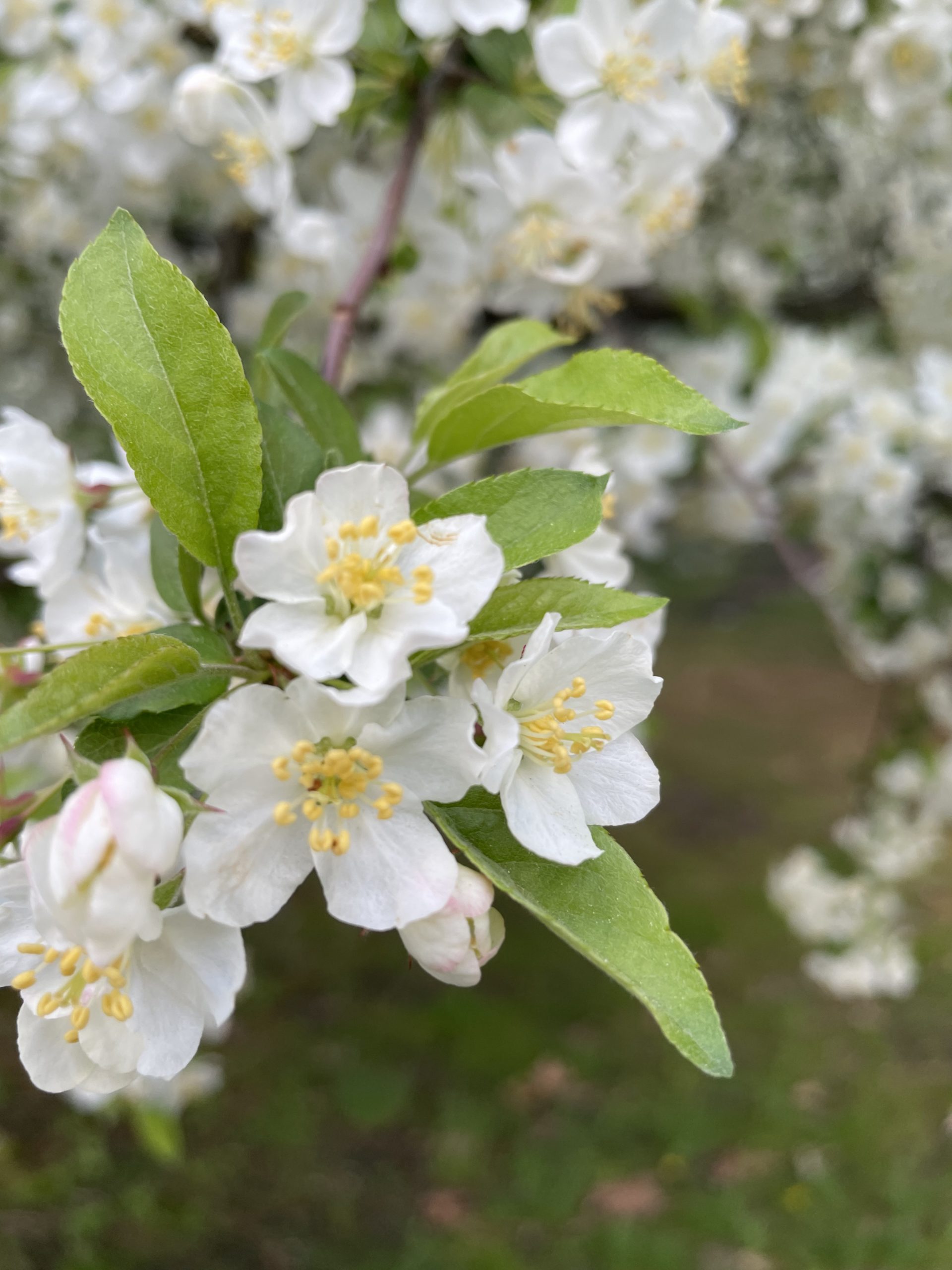 8. Apple trees on Morgan Road
Located along Morgan Road in front of the cemetery is a stunning little apple tree. This apple tree might be one of the most fragrant trees on campus. You can't walk by the tree without noticing its sweet aroma. To get the best sniff, lean in close to the blossoms, but watch out for the bumblebees because they love the smell too!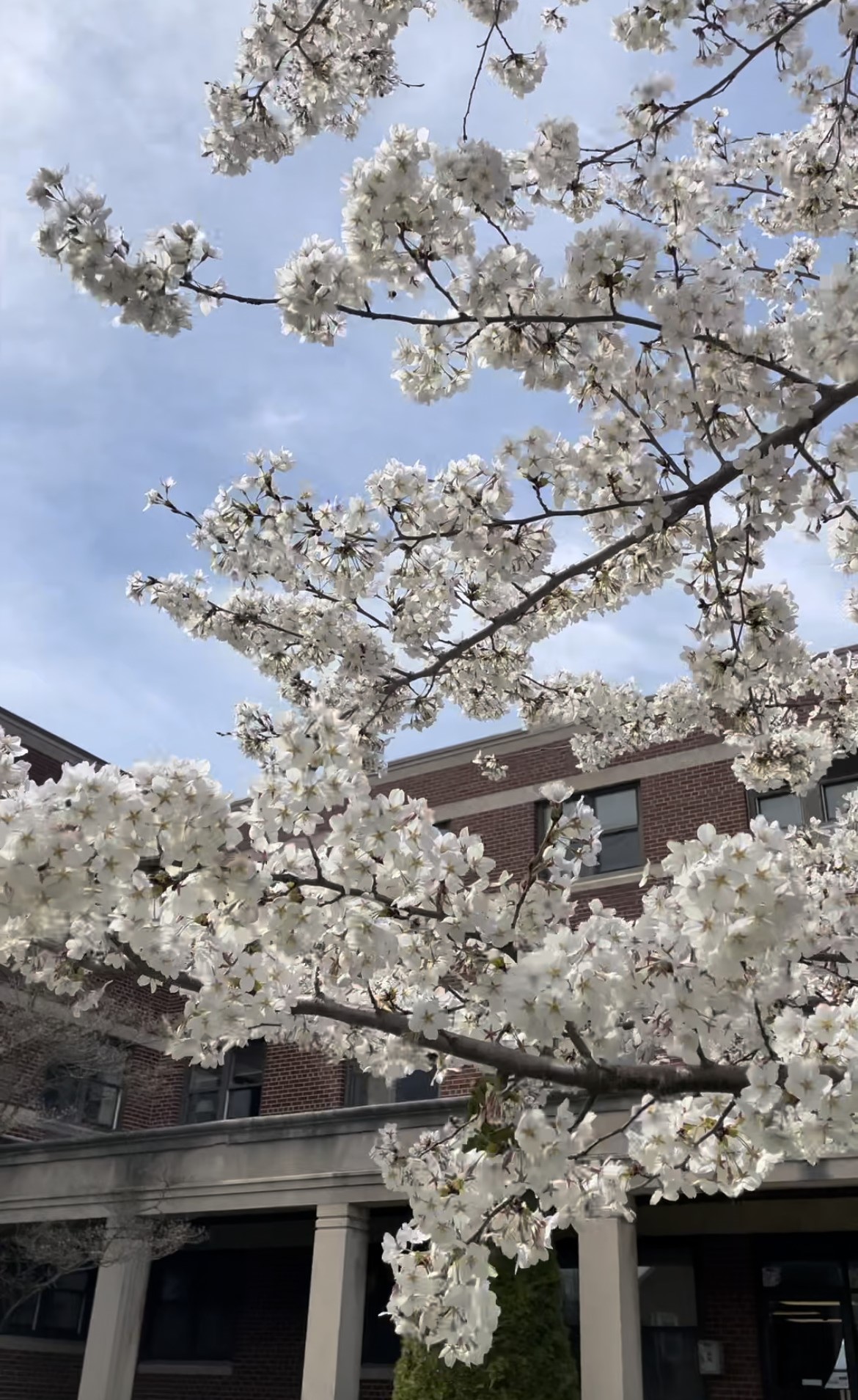 7. Yoshino Cherry
Another gorgeous flowering cherry tree is the Yoshino Cherry, located outside of Immaculata Hall. Its delicate white flowers bloom in beautiful, and fragrant clusters. Donated by Muriel Scherr Cagney, Class of '69 in memory of Thomas F. Burke, a beloved uncle, the Yoshino Cherry greets all who enter campus via Gillet Lane.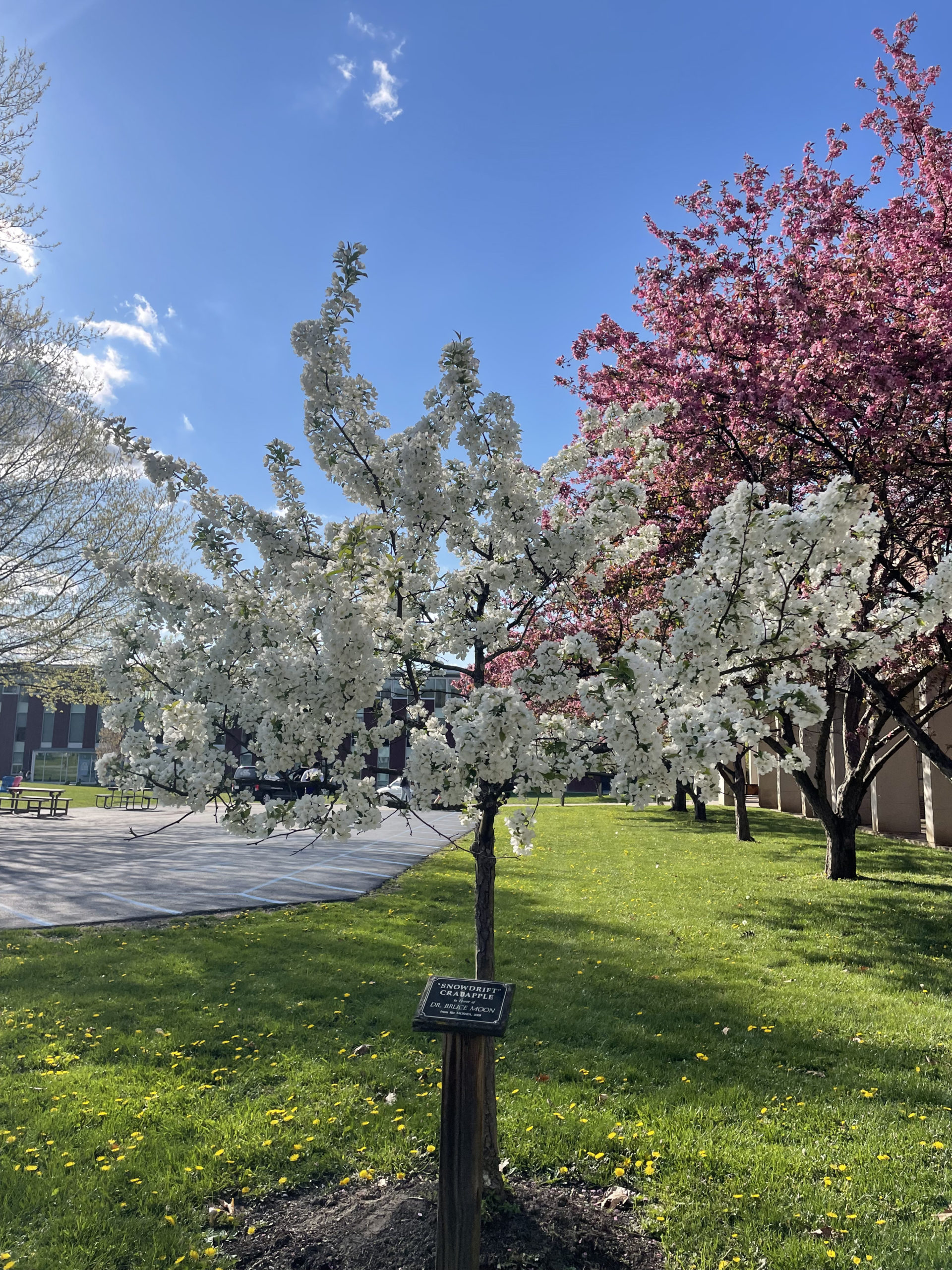 6. Snowdrift Crabapple outside the Center for Architectural Studies
Donated by the Marywood University Student Art Therapy Association in honor of Dr. Bruce Moon in 2008, the Snowdrift Crabapple is another tree with stunning white flowers. In early springtime, the tree sprouts small, pink buds that then open up into beautiful white blossoms that resemble snow, hence the name "Snowdrift Crabapple".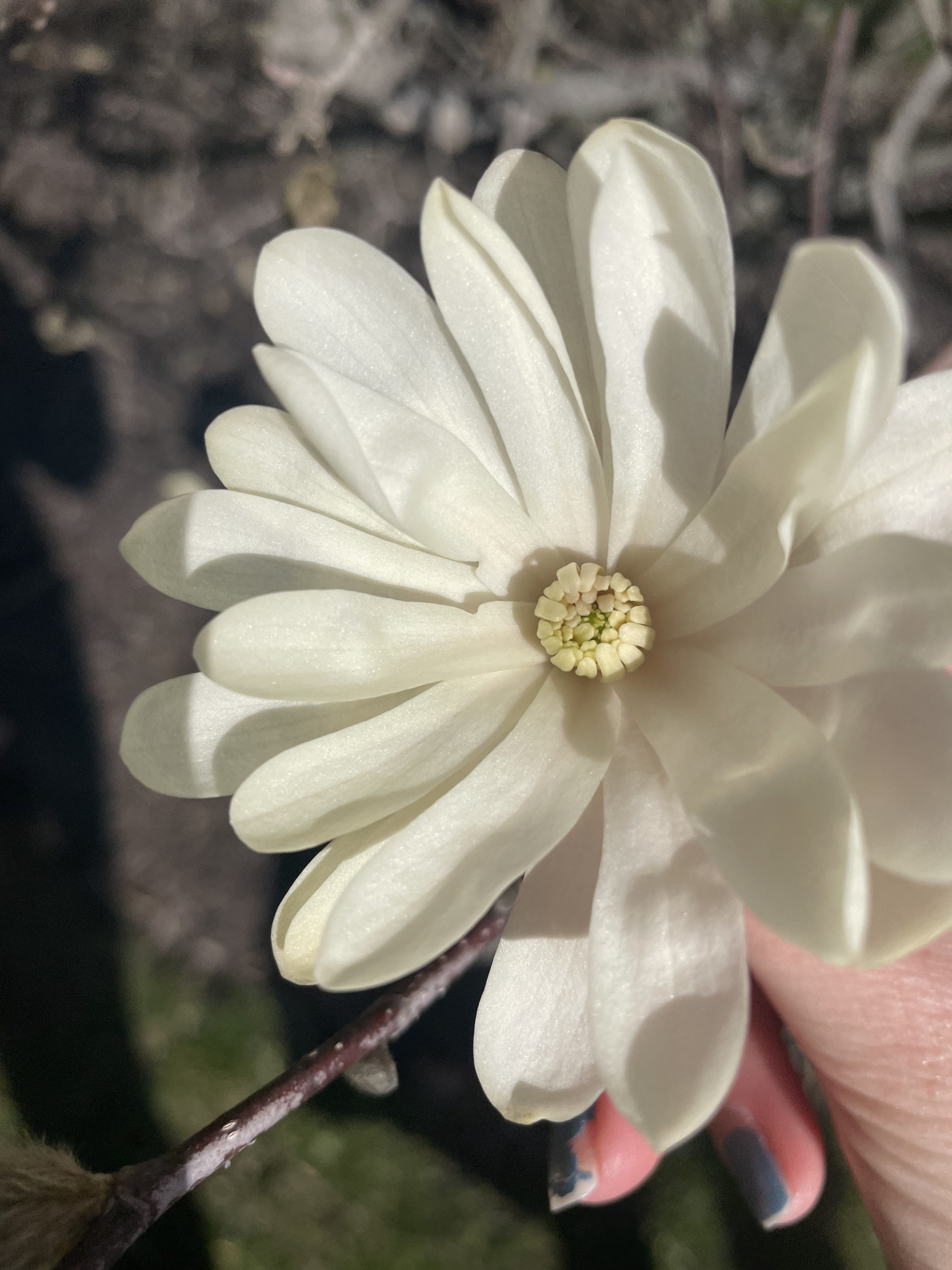 5. Royal star magnolia trees outside of Loughran Hall
The Royal Star Magnolia Trees are small, but beautiful nonetheless. Unlike the large blossoms of some of the other types of Magnolias, the Royal Star Magnolias contain flowers with thin, long petals that are similar in shape to daisies. These white flowers are also incredibly sweet-smelling, and although these trees may look like bushes because of their small size, they are undoubtedly among the most beautiful trees on campus.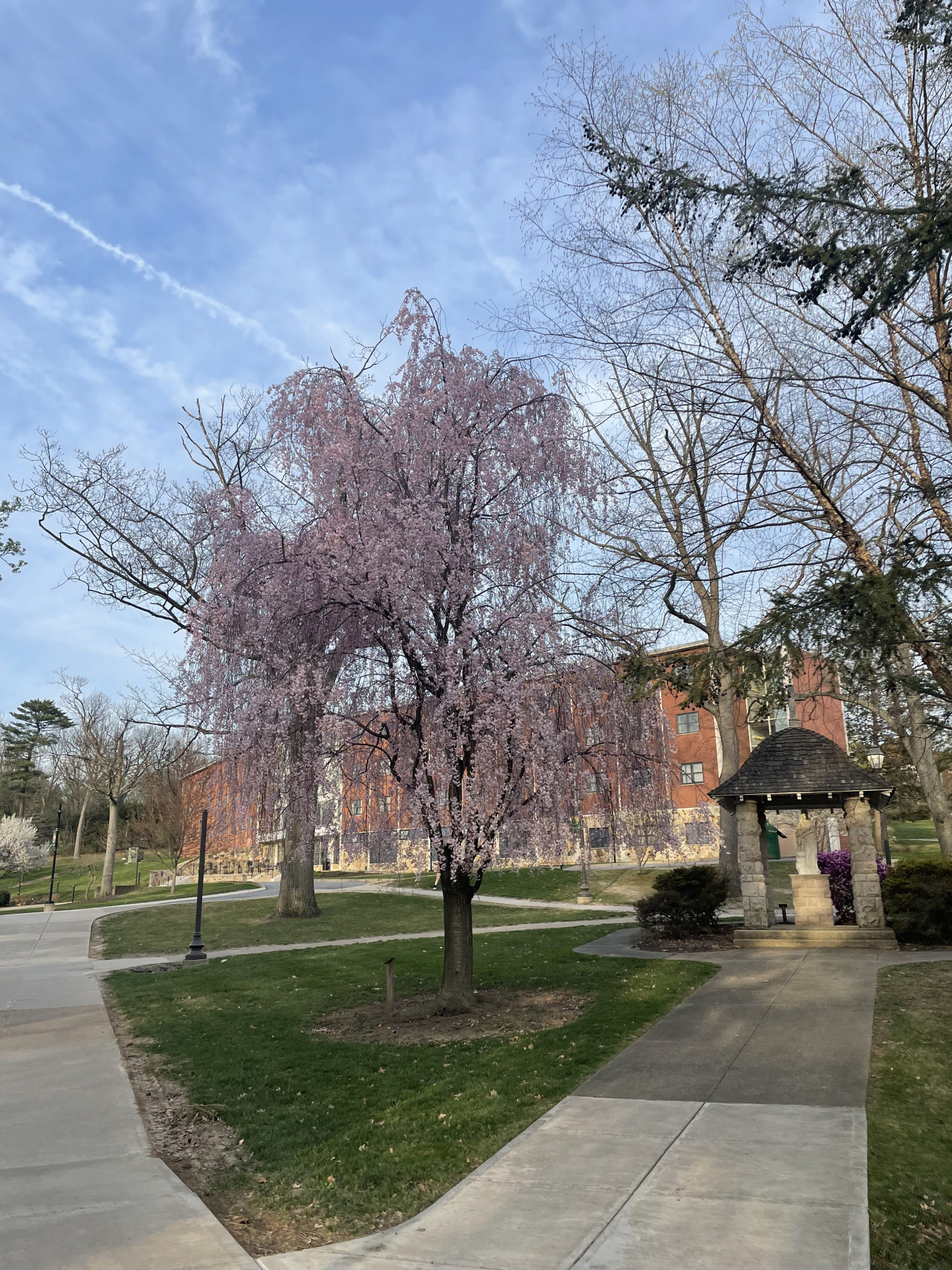 4. Weeping Cherry Tree
The Weeping Cherry Tree is remarkable and hard to ignore. Its long branches, full of small pink flowers, look like something straight out of a storybook. This gorgeous tree is located in between the Learning Commons and Nazareth Dining Hall, near the Our Lady of Victory Shrine. The Weeping Cherry is among some of the biggest trees on campus, and although it only flowers for a week or two, its pink blossoms are enjoyed by everyone that sets eyes on it.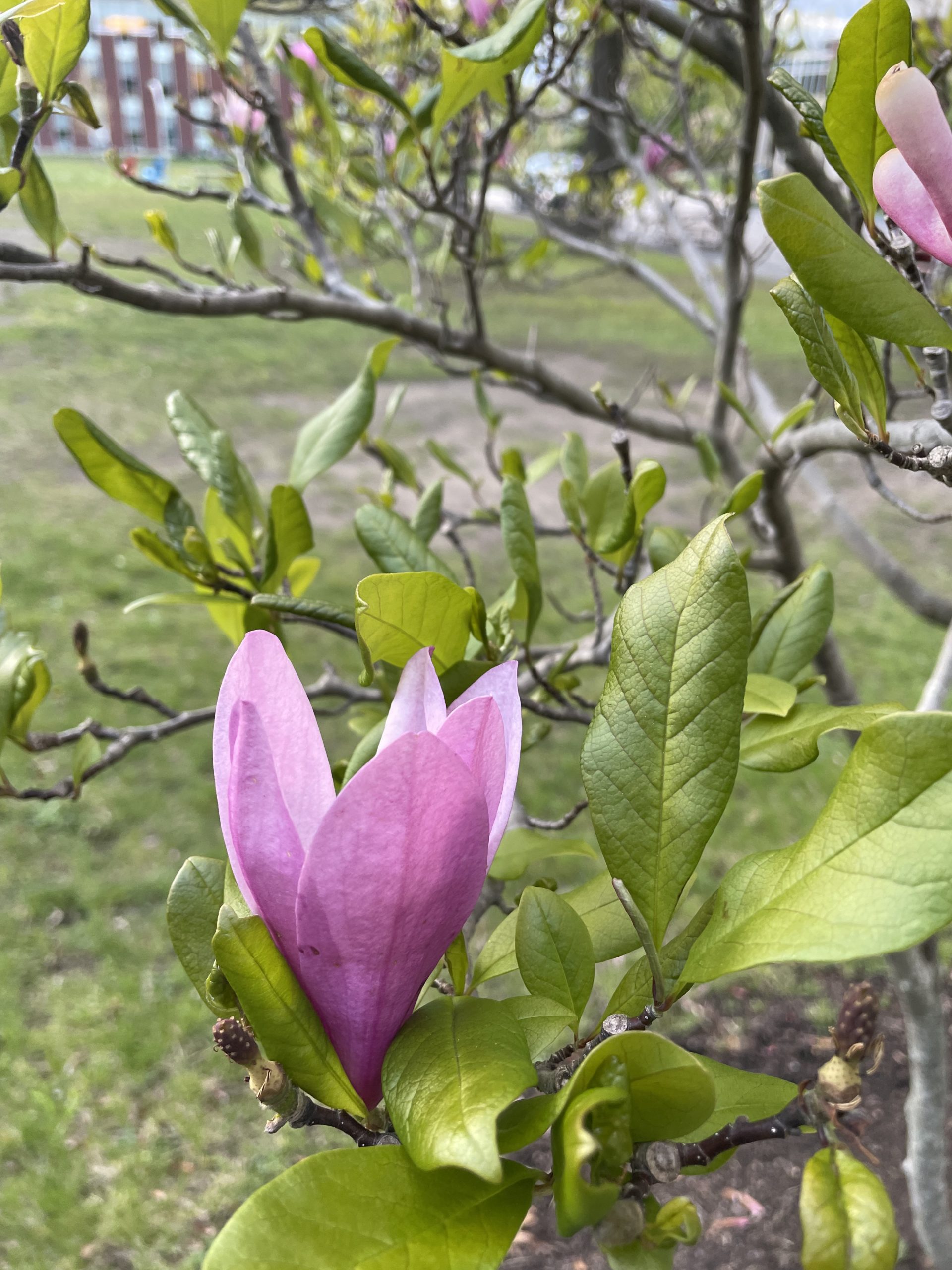 3. Magnolia Trees outside of Insalaco Center for Studio Arts
Although these trees are smaller in height than most of the other trees on campus, their big, bright pink blossoms are striking. The Magnolia Trees on campus are some of the first trees to produce buds in the springtime, and their bright pink flowers evoke feelings of joy and excitement. The flowering of these trees is quite the indicator that springtime is upon us!
Other types of magnolia trees can also be found on campus, such as the Magnolia tree located near the faculty parking lot, however, unlike the trees outside of Insalaco, the flowers on the Magnolia trees near the parking lot are a creamy white/pale yellow color.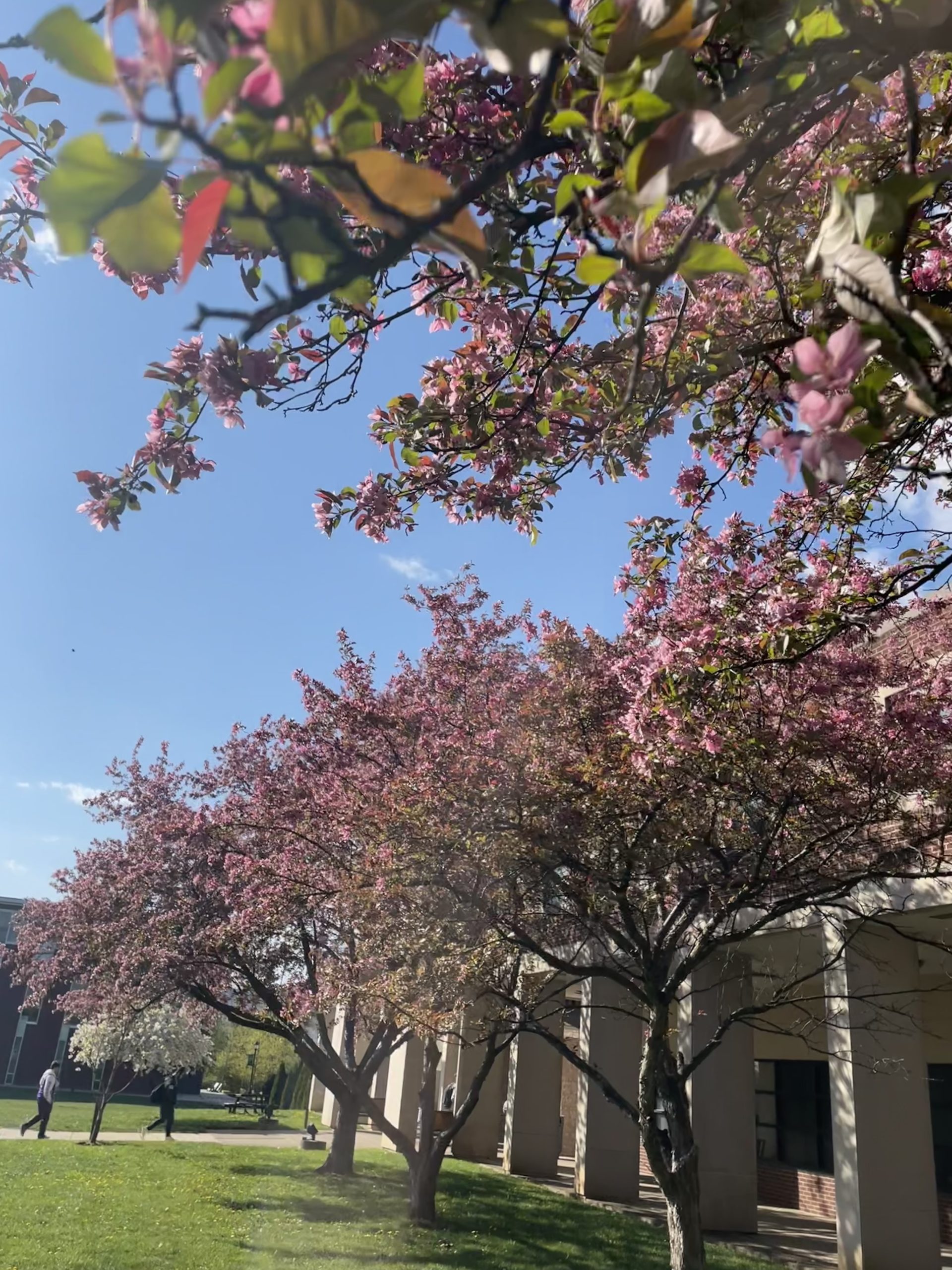 2. Crabapple Trees outside of the Center for Architectural Studies
Although there is no sign identifying these trees, the "Plant – Look Up" feature on my iPhone says that the beautiful, rosy-colored trees outside of the Center for Architectural Studies, are Crabapple Trees. Anyone that has walked past these trees while they were blooming is familiar with their sweet, fragrant aroma. They are by far the most aromatic trees on campus, and for that reason, they come in at number 2 on my list.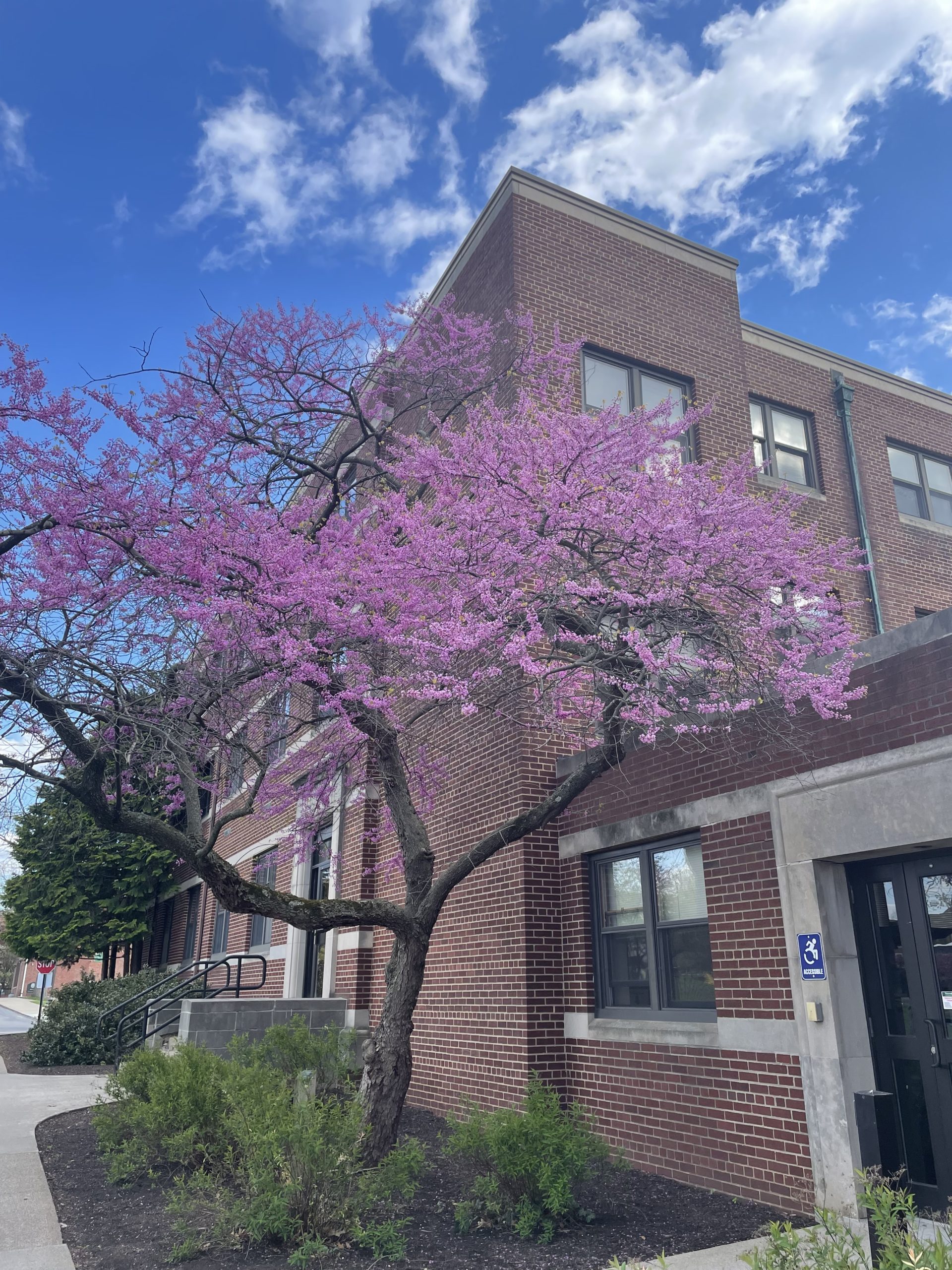 1. Eastern Redbud outside of the Liberal Arts Center.
The stunning purple blossoms make this tree number 1 on my list. Native to North America, the Eastern Redbud attracts nectar-seeking insects including bees and butterflies. It is also the state tree of Oklahoma. Although far from Oklahoma, our Eastern Redbud is thriving and vibrant this springtime. Unlike some other flowering trees on campus, the Eastern Redbud keeps its blossoms for multiple weeks. In contrast to the bright green trees that surround it, the purple blossoms of the Eastern Redbud are more vibrant than any other tree on campus, earning them the title of, (in my humble opinion) the best tree on campus!
Contact the writer: [email protected]
About the Contributor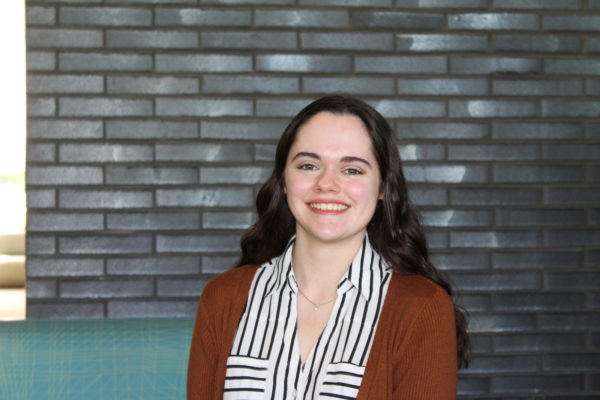 Madeline Adams, Editor in Chief
Madeline Adams is a junior multimedia communications major and is the Editor in Chief for The Wood Word. She is a DJ for Marywood's own, VMFM 91.7, and...