Pacer Profile: Will Roerden
By Colleen Spring
Staff Writer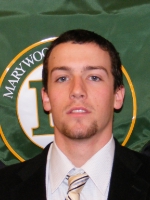 Freshman Will Roerden of Warwick, NY has played lacrosse for seven years. For the Pacers, his position is attack.
What are some team goals?
Roerden: To have a winning season, and win the conference championship.
How have you prepared for this season?
Roerden: I work out in the gym a lot and practice shooting at the  goal in my spare time.
What do you think is the biggest threat for the opposing teams?
Roerden: Our defense, goalie, our offence is quick and we can execute a lot of goals.
As a young team what do you think the biggest obstacle will be?  How will you overcome that?
Roerden: Our size.  The team is small; we don't have a lot of size or numbers.  We are able to work with what we have.
Do you feel that a lack of leadership could be a problem with very few upperclassmen?
Roerden: No. We have good leaders.  Everyone knows when to step up.  We have different leaders for offense and defense.
So far, what are your thoughts on new coach Mic Grant?
Roerden: He's a great guy, good coach.  He really knows the game and can break everything down and simplify it.
What is the organization like since the majority of the team came from different areas?
Roerden: It was different at first, but we all work together and know who's who.
Have you watched any tapes of other schools you will be playing against?
Roerden: Not yet, but we tape our practices.  Coach tells us where we need to improve and what we did that was good.  There's always something we can improve on in lacrosse.
Your first game is against another school that just recently started a lacrosse team. How big would a win at home in the first game be for a new program?
Roerden: It would be awesome.  It will show that we are determined to have a great season and have a new program off to a great start.