Heidi Wolfsberger: Olympics 2008 Hopeful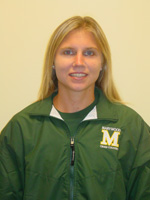 By Jack Trapani
Sports Editor
Heidi Wolfsberger, the assistant cross country coach at Marywood University, recently qualified for Olympic Trials. She earned this merit by competing in her first marathon, the Philadelphia Marathon. Her finishing time was 2:44:03, which is under the Olympic Trial qualifying time of 2:47:00. Wolfsberger came in third out of 2,726 female runners.
The qualifying Olympic trials were on April 20 in Boston, MA, the day before the Boston Marathon.
This past season as assistant coach for both the men's and the women's teams, Wolfsberger helped strengthen the Pacers' program. She helped to lead the women's teams to their fifth-straight Pennsylvania Athletic Conference (PAC) Championship. Also the men's team under her guidance helped to secure a fourth place finish, two places higher than the previous year.
Ms. Wolfsberger went to Moravian College in Bethlehem, Pa. She was a part of the cross country and indoor and outdoor track teams form 1998 to 2002. She ran the 800 to 3000 meters indoors and outdoors while at Moravian. She is an 11-time NCAA Division III All-American. While running cross country, she and her team made it to the Division III Championship.
Wolfsberger previously coached at The University of Scranton. She earned her masters degree from Wilkes University, and she is a fourth-grade teacher at Riverside Elementary School District.