By Christian Wagner
Sports Editor
Who: Gaetan DeSimone
Year: Freshman
Major: Communication Arts
Story continues below advertisement
Sport: Lacrosse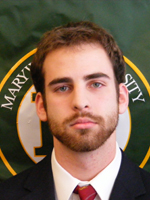 Most Memorable Lacrosse Moment:
My junior year of high school, I scored from GLE (goal line extended). If you don't understand lacrosse, I scored from about 80 yards out!
Celebrity Crush:
I have a girlfriend. She is my celebrity.
Favorite TV show:
Can it be a cartoon? If so, Ren and Stimpy. If not, then Scrubs.
Favorite Color:
Blue
Hobbies:
Lacrosse, movies, rock climbing, BMX, skiing, and drawing
Favorite Fast Food:
Arby's
Favorite Teacher at Marywood:
Ernie Mengoni
Favorite Ice Cream Flavor:
Coffee
Favorite Band:
Taking Back Sunday
Favorite Movie:
Fight Club